Russian church mediates Ukraine prisoner release
Ethnic Hungarian soldiers were handed over to the government in Budapest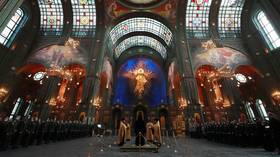 The Russian Orthodox Church has helped arrange for a group of Ukrainian prisoners of war to be sent to Hungary, the Moscow Patriarchate announced on Friday. The captives were all ethnic Hungarians from Ukraine's Transcarpathia Region.
"A group of Ukrainian prisoners of war of Transcarpathian origin, who participated in the hostilities, was transferred to Hungary," the church said in a statement. The unusual initiative was undertaken "within the framework of inter-church cooperation, at the request of the Hungarian side," and with the blessing of Patriarch Kirill.
The head of the church's external relations department, Metropolitan Anthony of Volokolamsk, and the patriarch's adviser, Archpriest Nikolai Balashov, were involved in arranging the transfer, "prompted by the motives of Christian philanthropy."
Russia and Ukraine have exchanged thousands of prisoners over the past year, but this appears to be the first case of Ukrainian servicemen being handed over to another country based on their ethnicity.
Five officers of Ukraine's notorious Azov regiment – captured earlier in the year in Mariupol – were released to Türkiye last September, with President Recep Tayyip Erdogan putting them under his personal protection "until the end of the war."
Budapest has long protested the treatment of ethnic Hungarians in the southwestern corner of Ukraine. Foreign Minister Peter Szijjarto has accused Kiev of forcibly conscripting the minority population and vowed to block Ukraine's NATO and EU integration until Kiev restores their rights.
Some 150,000 ethnic Hungarians live in Transcarpathia, which once belonged to Austria-Hungary and later Czechoslovakia. It was annexed by Hungary during the Second World War and ceded to the Soviet Union afterward, when it became part of Soviet Ukraine.
The Moscow Patriarchate's intervention on behalf of Hungary comes as the canonical Ukrainian Orthodox Church (UOC) faces persecution by the government in Kiev. On Tuesday, President Vladimir Zelensky's government ordered all monks currently residing in the iconic Kiev-Pechersk Lavra monastery to leave within 72 hours or join the government-established Orthodox Church of Ukraine.
Meanwhile, a third of Ukraine's regions have outrightly outlawed the UOC and either seized its churches and properties or turned them over to the OCU. Russia has repeatedly protested against this persecution to international organizations and Western governments, who have done nothing to stop it.
You can share this story on social media: