EU state slams Kiev over 'brutal' military draft from ethnic minority
Budapest's Foreign Minister Peter Szijjarto has blasted Ukraine's conscription of Transcarpathian Hungarians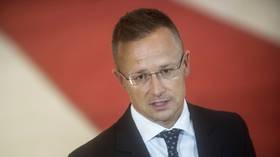 Ethnic Hungarians living in Ukraine are being enrolled in its armed forces to fight Russia, Hungarian Foreign Minister Peter Szijjarto has claimed. Kiev's crisis "is not our war" but it hurts Hungarian people, the official stated, which is why Budapest wants it resolved swiftly.
Unfortunately, "peace is rarely spoken about, and those who talk about it are even stigmatized and criticized," the top Hungarian diplomat argued, speaking on the sidelines of an open debate at the UN Security Council on Thursday. Hungarians are paying a price for it, both economically and with their lives, he added.
"In addition to Ukrainians, Hungarians also die in this war, since Hungarians living in Transcarpathia are being conscripted into the Ukrainian army, too. We've seen some footage in recent days of how brutal it sometimes is," Szijjarto told journalists.
Ukraine has a significant ethnic Hungarian minority living in the region of Transcarpathia, which has long been the focus of tensions between Kiev and Budapest. Hungary has denounced Ukrainian laws that discriminate against non-Ukrainians in education and in other spheres of public life. Ukraine has claimed that its western neighbor undermines its authority with its outreach policies, including by offering Hungarian citizenship to people in Transcarpathia.
[4] Soldiers raided a coffee shop in the district of Beregsász (Berehove). Beregszász is the closest city to the Hungarian border just 5km away. The city is demographically 48% Hungarian. pic.twitter.com/FlICxr1Oie

— Based Hungary 🇭🇺 (@HungaryBased) January 22, 2023
Some Hungarian media recently reported on claims that the Ukrainian government was conducting mass military mobilization of ethnic Hungarians, using all sorts of tricks to boost military numbers. Hundreds have been signed up, many against their will, to compensate for the loss of manpower in the east, the news outlet Pesti Sracok claimed. The report said that Kiev is rumored to be planning to get as many as 10,000 people in Transcarpathia to take up arms within months.
Ukrainian President Vladimir Zelenksky revealed last Sunday that he had ordered the Defense Ministry to boost reserves of manpower, to allow for rotation of troops on the frontline.
"Frankly, I cannot tell everything about how the mobilization processes go. They happen, they must happen, and we really need them," he explained.
Ukrainian forces reportedly suffered heavy losses in recent weeks. Germany's Federal Intelligence Agency (BND) estimates that Kiev suffered daily fatalities measured in three-digit numbers in the fighting for the key Donbass city of Artyomovsk, called Bakhmut in Ukraine, according to Der Spiegel.
You can share this story on social media: