Russian writer who survived car bombing awarded medal
Zakhar Prilepin was presented with the Order of Courage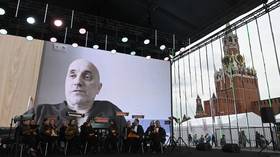 President Vladimir Putin presented the Order of Courage to Zakhar Prilepin on Tuesday, honoring the writer severely injured in last month's assassination attempt that Russia has blamed on Ukraine and the US.
A notice published by the Russian government said Prilepin was decorated "for the courage and dedication shown in the performance of civic duty."
Alexander Shubin, Prilepin's aide who died in the May 6 car bombing, was also honored with the same decoration.
Prilepin was traveling in Russia's Nizhny Novgorod Region when his vehicle was destroyed by a roadside bomb. Shubin was killed, while Prilepin was critically injured and taken to a local hospital.
Russian authorities quickly identified 30-year-old Aleksandr Permyakov as the culprit and charged him with terrorism. The Donetsk native confessed to having been recruited by Ukrainian intelligence in 2018.
"The responsibility for this and other terrorist acts lies on the Ukrainian authorities together with their Western patrons, mainly the United States," the Russian Foreign Ministry said after the bombing.
Moscow has pointed to a string of other assassinations, from the car bombing that killed Darya Dugina last August to the April explosion that killed military blogger Vladlen Tatarsky at a St. Petersburg café.
Ukraine has officially denied any role in the attacks, though its head of military intelligence, Kirill Budanov, boasted of "getting" many prominent public personalities in an interview last month.
One of Russia's most popular contemporary writers, Prilepin worked as a police officer and fought in Chechnya in the 1990s. He also volunteered in Donbass from 2014 to 2018, retiring from the Donetsk People's Republic militia with the rank of major to focus on writing. He returned to the battlefield as a volunteer in the Russian National Guard earlier this year.
Ukraine had listed Prilepin in its notorious Mirotvorets ('Peacemaker') database, a "kill list" of designated enemies of the state.
You can share this story on social media: