Who is Zakhar Prilepin, the Russian 'nationalist' writer injured in a car bombing?
The prolific novelist and pundit is in critical condition after the blast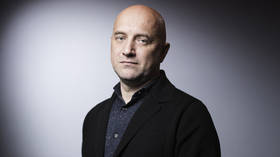 Novelist and political activist Zakhar Prilepin, who has participated in Russia's military operation in Ukraine, was rushed to a hospital after being injured in a car bombing on Saturday. The news agency Interfax cited emergency services saying that he remains in critical condition.
The blast took place on a road 70km from the city of Nizhny Novgorod in central Russia. Prilepin's personal assistant, who was behind the wheel at the time of the incident, was killed.
Zakhar Prilepin was born as Evgeny Prilepin in 1975 in the village of Ilyinka in western Russia. After completing mandatory military service, he worked as a police officer in the 1990s and was deployed to Chechnya during the separatist and Islamist insurgency there.
He later became a journalist and built a career as a critically acclaimed novelist. Opinion polls have often shown him ranked as among the country's top contemporary writers, and he was named the most popular author of 2022, according to a survey by pollster VCIOM. In the Western media, Prilepin has been commonly described as a "Russian nationalist."
His crime thriller 'Break Loose', set in a small Russian town, was made into a film in 2013. His historical novel 'Abode', centered on a remote Soviet prison camp in the 1920s, was adapted into a TV series in 2021.
Prilepin gained additional fame as a prolific political pundit, frequently appearing on TV and radio, as well as hosting his own show on the Russian channel NTV. He was first involved with Eduard Limonov's now-banned National Bolshevik Party until founding his own small conservative party, 'For Truth', in 2019.
Prilepin is known for his hawkish stance on foreign policy and has suggested that the whole of Ukraine should be incorporated into Russia. In 2014, he supported the revolt in the Donbass region, which rejected the Western-back coup in Kiev that year and declared independence from Ukraine, creating the Donetsk and Lugansk People's Republics (DPR and LPR).
After an armed conflict broke out between Ukrainian troops and Donbass forces, Prilepin visited the war zone many times, eventually becoming deputy commander of a DPR military unit with the rank of major. He quit the post in 2018, citing the desire to focus more on writing. Both Donbass republics joined Russia after holding referendums in September 2022.
In January, Prilepin enlisted in the Russian National Guard and went back to the frontline. "I have returned to the same war, to the same place where I first arrived in 2014, traveling down the same roads as nine years ago," he told RT last week. "This is my story, the story of my life."
Ukraine banned Prilepin's books in 2018. Last year, he was blacklisted by the EU as part of the sanctions imposed on Russia over its military operation launched in the neighboring state more than a year ago.
The attempt on Prilepin's life comes after a string of similar bombings. Last August, Darya Dugina, the daughter of Russian philosopher Aleksandr Dugin, died in a car blast outside Moscow.
In early April, a bomb went off inside a St. Petersburg cafe, killing popular military blogger and Donbass native Vladlen Tatarsky. Moscow attributed both killings to Ukrainian special services.
You can share this story on social media: