Suspect in Prilepin car bombing detained
Russian police claim to have detained a man who may have been involved in the assassination attempt on the writer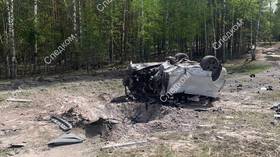 Russian police have announced the have arrested a man who could be connected to the bomb blast that injured prominent Russian writer and political activist Zakhar Prilepin.
According to the Nizhny Novgorod Region prosecutor's office the explosion took place in the village of Pionersky, some 70km from the eponymous city, some 400km to the east of Moscow.
In a statement, Russian Interior Ministry spokeswoman Irina Volk said that "during a hot pursuit in Nizhny Novgorod Region, police officers apprehended a man who may have been involved in blowing up the car with Zakhar Prilepin inside."
Volk said that the man "had been spotted near the village of Pionersky, according to witnesses."
The Interior Ministry added that the 30-year-old suspect, who has a prior criminal record, was arrested while police officers were implementing a dragnet. A Ren TV channel source had earlier identified the man as a local resident who recently received Russian citizenship, adding that he was being interrogated by law enforcement.
The Baza Telegram channel noted, citing sources, that the police were seeking a second suspect, described as a 33-year-old man who had rented an apartment on the city outskirts one day before the blast. The man is said to have come to police attention because he is registered in Ukraine's Kharkov Region.
The Tass news agency reported, citing sources, that individuals believed to be involved in the attack were also being sought in Moscow Region and that the addresses of these additional suspects are already known. The police have also reportedly managed to pinpoint the apartment where the explosive device that blew up Prilepin's car was assembled.
Earlier in the day, Russia's Investigative Committee announced that it had opened a criminal investigation into the attack and that forensic scientists had been dispatched to the scene. It also described the blast as a "terrorist act."
According to the Interior Ministry, while Prilepin was injured, the blast killed a man identified by Russian media outlets as the writer's driver. Commenting on Prilepin's health status, the governor of Nizhny Novgorod Region Gleb Nikitin said that he "suffered from minor fractures, but his life is under no threat." The governor added that he was in the care of local medical personnel.
Nikitin described the deceased man as "Prilepin's assistant and comrade" while expressing condolences to his family and loved ones.
Russia's Investigative Committee also published a picture of Prilepin's severely damaged car. The vehicle appears to have been flipped over by the blast, with its front completely destroyed and front wheels missing. The car is seen lying on its roof near a crater that was apparently caused by the explosion.
Other videos and pictures on social media appear to show emergency services and law enforcement officers having arrived at the scene.
You can share this story on social media: