Eight wounded by Ukrainian shelling of Russian region overnight
Belgorod Region Governor Vyacheslav Gladkov said authorities are evacuating civilians from towns close to the border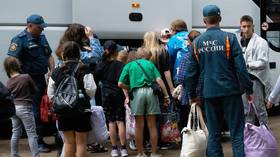 Eight people sustained injuries in the early hours of Thursday in Russia's Belgorod Region as a result of Ukrainian shelling, Governor Vyacheslav Gladkov has revealed. He also claimed Kiev's forces did not cross the border in the attack.
In a Telegram post on Thursday, Gladkov wrote that several towns along the border with Ukraine, particularly Shebekino, came under "massive" bombardment overnight.
Local authorities are preparing to evacuate residents once the shelling relents, he stated, adding that several hundred women and children would be relocated to other regions by the end of the week.
In a number of overnight posts, Gladkov detailed that at least three people had been hospitalized. He revealed that one man had lost his "left upper limb" and was in critical condition, with another suffering concussion.
One household and one administrative building caught fire after being shelled, and multiple other buildings sustained superficial damage.
Shebekino, which is located approximately 20km (12.4 miles) from the Russia-Ukraine border, has repeatedly come under artillery and rocket fire since Russia launched its military operation in February 2022.
More than 200 projectiles were fired at the town and the surrounding areas on Tuesday alone, killing one person and injuring two, according to Gladkov.
Last month, neo-Nazi affiliated Ukrainian armed units comprised of Russian citizens conducted sorties into Belgorod Region.
Two groups, named the Freedom of Russia Legion and the Russian Volunteer Corps (RDK) claimed responsibility for the incursion.
You can share this story on social media: