Major maritime expo announced in Russia
The International Maritime Defense Show is set to take place in St. Petersburg in late June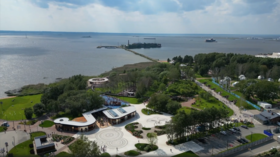 The 11th International Maritime Defense Show (IMDS-2023) will take place between June 21 and 25, the event's main sponsor, Russia's Ministry of Industry and Trade, announced on Thursday.
The biannual expo will be held in Kronstadt, a port city and naval base, located immediately to the west of St. Petersburg. For the first time in the show's history, it will be held on the grounds of the 'Forts' island' – a major military and naval museum compound.
The expo is expected to bring together more than 250 participants, including leading Russian and foreign shipbuilders and producers of various maritime equipment. Apart from demonstrating their production at conventional fair booths, some participants are expected to moor their vessels, including warships and military boats, at the compound's port.
"The theme of the show traditionally includes shipbuilding, weapons and equipment, combat control, navigation and communications systems, ship power units, naval aviation, support infrastructure, new technologies and advanced materials," the organizers of the event said in a press release.
Last time, the IMDS-2021 brought together some 285 leading producers in the maritime industry from 13 countries. The show was attended by more than 25 official delegations from various countries and became the platform for more than 100 bilateral talks between them, as well as Russian military and defense industry officials.
You can share this story on social media: