Chechen unit on the offensive in Donbass – MOD
An Akhmat special ops force is attacking Ukrainian troops near the town of Maryinka, the Defense Ministry has announced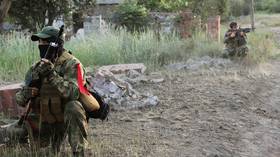 Russian forces are conducting offensive operations against Ukrainian troops in the area outside Donetsk in Donbass, the Defense Ministry said on Wednesday.
In a statement, the ministry announced that assault detachments of the Russian 5th motorized rifle brigade and an Akhmat special forces unit are successfully attacking Ukrainian troops near the town of Maryinka, around 30km west of the capital of Russia's Donetsk People's Republic (DPR).
The Akhmat unit is part of Russia's National Guard and is based in the Chechen Republic. It was named after Akhmad Kadyrov, the region's first president and father of current leader, Ramzan Kadyrov.
The reports of successful attacks come after Kadyrov declared on Tuesday that Chechen units would face combat in the DPR, adding that troops "are getting ready for assault action."
The ministry also claimed that Ukraine had lost 200 soldiers in the Donetsk area, as well as three armored and 12 transport vehicles, one artillery piece, and two multiple launch rocket systems.
Russian forces have also destroyed Ukraine's last navy warship, the Yury Olefirenko, according to the statement. The Soviet-era landing ship was sunk by a high-precision strike in the port city of Odessa, the ministry claimed.
It added that in the last 24 hours, Russian air defenses had intercepted 12 missiles launched from US-made High Mobility Artillery Rocket Systems (HIMARS), as well as one UK-supplied long-range Storm Shadow missile.
Since the start of hostilities in Donbass in 2014, which were triggered by a Western-backed coup in Kiev, the town of Maryinka has become a frontline city hosting strong Ukrainian fortifications. The area has also been used by Kiev's troops to repeatedly shell civilians in Donetsk.
You can share this story on social media: