Moscow slams 'cynical speculation' on use of nukes
There have been no changes to the national doctrine, Deputy Foreign Minister Sergey Ryabkov insists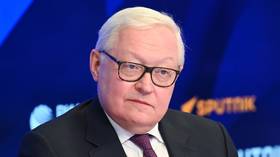 Russia's Deputy Foreign Minister Sergey Ryabkov has accused hostile states of falsely claiming that Moscow intends to use nuclear weapons in Ukraine.
In an interview with Russian media on Friday, the official noted that Moscow has not introduced any changes to its nuclear doctrine, and that "there have been no changes in our approach to this complex and alarming issue."
"Our enemies are cynically speculating on this issue and trying to attribute to Russia non-existent intentions to use nuclear weapons in connection with what is happening in Ukraine," Ryabkov said.
The diplomat explained that Russia's nuclear doctrine allows for the use of tactical weapons in the case of an existential threat to the existence of the state, even if such aggression is carried out using conventional weaponry. However, he stressed: "I would not project all this onto what is happening in Ukraine and around it."
Meanwhile, former Russian President Dmitry Medvedev warned on Friday that if Kiev was to be provided with nuclear weapons by the West, it would warrant a preemptive strike from Russia.
Speaking to journalists during his visit to Vietnam, Medvedev, who currently serves as Deputy Chairman of Russia's National Security Council, stated that in the current situation, it is likely that the West will send Kiev F-16 fighter jets and even, possibly, nuclear weapons.
"But that would mean that there will be a missile with a nuclear charge launched at them. There are irreversible laws of war. If it comes to nuclear weapons, it will be necessary to launch a preemptive strike," Medvedev said.
He added that the "Anglo-Saxons" don't fully appreciate this fact, and falsely believe the situation will not come to this. "It will, under certain circumstances," the former president stressed.
Moscow has repeatedly argued that the crisis in Ukraine stems from decades of Western disregard for Russian national security. Since launching its military campaign in Ukraine in February 2022, Russia has called for a neutral, non-aligned status for a demilitarized Ukraine, while insisting that Kiev drop its plans to join NATO and the EU, and confirm its non-nuclear status.
You can share this story on social media: