NATO country should back 'uprising' in Belarus – retired general
Former Polish army commander's claims were condemned by the Kremlin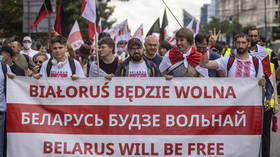 Poland ought to prepare for an inevitable "uprising" in Minsk and aid the pro-Ukrainian "army" that will back regime change in Russia's ally, retired general Waldemar Skrzypczak has told Polsat TV. Following the comments the Kremlin responded on Wednesday that Warsaw's hostile behavior will not go unanswered.
Appearing on the Tuesday evening newscast, Skrzypczak said he hoped the coming Ukrainian offensive and the "signal" sent by the raid on Russia's Belgorod Region will "trigger an uprising" in Belarus and maybe even in Russia itself.
"Let's prepare for an uprising in Belarus, because it will happen. The point is that we should not sleep through this moment," Skrzypczak told Polsat. "We must be ready to support the troops that will carry out the operation against Lukashenko. We have reasons to help them, just as we help Ukraine. The Belarusians will support them against [President Alexander] Lukashenko with enthusiasm."
According to Skrzypczak, Belarus doesn't have the military capability to prevent such an uprising, while Russia can't help because "it will have its own problems." In addition to providing help to the Belarus insurgency, he added, Poland needs to prepare for an "exodus" of refugees from the country.
Skrzypczak was Poland's deputy defense minister for armaments and before that, commander of the country's land forces. Now retired, he has been a frequent guest of Polish media, commenting on the Ukraine conflict over the past year.
Asked about the general's remarks on Wednesday, Russian President Vladimir Putin's spokesman Dmitry Peskov condemned Warsaw's "Russophobic tantrums" and vowed that Moscow will come to the defense of Minsk.
"Poland is a state hostile to us, not just unfriendly," Peskov told reporters. "We see that this state, hostile to us, actually openly talks about its intention to interfere directly, including by force, in the internal affairs of a neighbor – our partner, ally and brotherly state."
Russia, he added, has an obligation to ensure the security of Belarus, "which we will do in the face of such obvious threats."
Poland is currently the hub of NATO efforts to supply Ukraine with weapons, ammunition and equipment to fight against Russia. In the summer of 2020, it was the base for US-backed efforts to overthrow Lukashenko in a "color revolution." Opposition politician Svetlana Tikhanovskaya has since declared a "government in exile" in nearby Lithuania, seeking US and NATO support.
You can share this story on social media: