Russian troops destroy Western-supplied vehicles in Belgorod Region (VIDEO)
US and Polish armored cars were among the militants' documented losses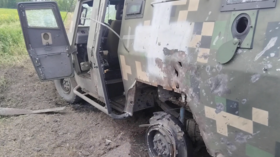 Several American-made armored cars were among the vehicles documented to have been destroyed on Monday, when a unit of Ukrainian militants was defeated after staging an incursion into Russia's border region of Belgorod.
Photos and video taken by the Russian military in the aftermath of the battle showed several abandoned, damaged or destroyed vehicles used by the Ukrainian force.
Two M1151A1 Hummvee armored cars can be seen stuck in what appears to be a bomb crater, showing combat damage. Another Hummvee, the lightly armored cargo version still in desert tan color, sat on the side of the road with its tires shot out.
Two of the M1224 MaxxPro armored vehicles were apparently left behind, one near a treeline and another inside a warehouse. The Mine Resistant Ambush Protected (MRAP) vehicle is made by the US company Navistar Defense in cooperation with the Israeli Plasan Sasa.
An AMZ Dzik-2 armored car, of Polish manufacture, showed signs of battle damage, while a Ukrainian-made KrAZ Kobra vehicle had been completely destroyed.
Earlier in the day, the Russian Defense Ministry said that "over 70 Ukrainian terrorists, four armored combat vehicles, and five pickup trucks had been destroyed" in the Belgorod clash, with the remaining intruders pushed back into Ukraine and "completely eliminated" by artillery fire.
Moscow described the raid as an attempt to terrorize civilians to distract from a military defeat in Artyomovsk – called Bakhmut by Ukrainians – a key city in Donbass taken by the Russian military and 'Wagner Group' forces over the weekend. One civilian was killed and 12 injured in the incursion.
Kiev has attempted to disavow the raid by claiming it was carried out by the 'Freedom of Russia Legion' and 'Russian Volunteer Corps (RDK)', the neo-Nazi unit that claimed responsibility for a similar raid in Bryansk Region in March. The Kremlin responded that it was a distinction without a difference, as the militants fought in the Ukrainian military using equipment provided by the West.
Both the Pentagon and the State Department have cast doubt on the authenticity of the videos and photos from the battlefield. Pentagon spokesman General Pat Ryder did say that the US government had only provided the equipment to Kiev, and not to any "paramilitary organizations outside the Ukrainian Armed Forces."
Ryder also insisted that the US had "put in place some very strict protocols, in terms of end use monitoring, and have had good success working with our Ukrainian partners toward that end."
You can share this story on social media: