US struggling to explain images of its destroyed hardware inside Russia
The Russian Defense Ministry has released footage showing American vehicles used by Ukrainian militants in Belgorod attack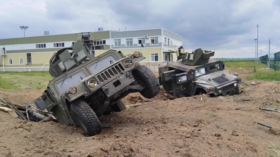 US officials have denied that equipment provided to Ukraine by its western backers was used by militants to stage an incursion into Russia that left multiple civilians injured and one dead. The denials run contrary to the multiple images across social media depicting US-made military vehicles destroyed in Belgorod Region.
"We've seen some of the reports circulating on social media and elsewhere making claims that US-supplied weapons were used in these attacks," US State Department spokesman Matthew Miller told reporters on Tuesday in Washington. "I will say that we're skeptical at this time of the veracity of these reports."
Miller suggested that footage of the destroyed vehicles might be fake.
"We've seen a lot of reports on social media and fuzzy pictures on social media and a lot of kind of armchair intelligence analysts making claims," he said. "We're skeptical that they're accurate."
The images appear to show the disabled US-made equipment, including Humvees and at least one MaxxPro MRAP armored fighting vehicle. Nevertheless, when questioned on why US officials haven't made a definitive assessment, Miller stood by his claim.
"We don't have perfect clarity on the information," he told reporters. "We're looking at the same pictures you see, the same fuzzy images, and at this time, we are skeptical of their veracity."
Monday's attack by a Ukrainian saboteur group targeted the Belgorod district of Grayvoron, where at least one resident was killed and several others injured. The Russian Defense Ministry on Tuesday published aerial footage purporting to show its destruction of the Ukrainian militant group, which left US-made armor on fire.
Another higher quality video showed multiple damaged and destroyed US-made vehicles scattered around in the aftermath of the attack. The ministry said Kiev has resorted to launching "terrorist actions" against civilian targets after its forces suffered defeat in Artyomovsk (known as Bakhmut in Ukraine).
US officials denied any responsibility for attacks in Russian territory. "We do not encourage or enable strikes inside Russia, and we've made that clear, but as we've also said, it's up to Ukraine to decide how to conduct this war," Miller said on Monday.
The Pentagon's press secretary, Air Force Brigadier General Pat Ryder, said the US government hadn't approved any transfers of equipment to paramilitary organizations outside the Ukrainian armed forces. He added that US officials "regularly communicate to Ukraine" that Washington's security assistance must be used only inside the country to defend its sovereignty.
Like Miller, Ryder tried to cast doubt on the footage of US-made armored vehicles. "When you see imagery like that – you know, again, something we'll look into – I don't know if it's true or not in terms of the veracity of that imagery."
You can share this story on social media: