Russia's key ally reports attack on troops in border area
Belarusian servicemen were assaulted on a Ukraine-bound highway, the Defense Ministry in Minsk says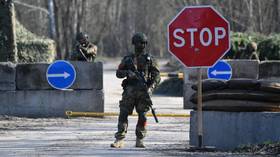 A truck driver targeted Belarusian troops with an explosive device late Thursday, the Defense Ministry in Minsk has said.
The alleged incident took place on the M-5 highway, which connects the capital, Minsk, with the country's border with Ukraine, the ministry said in a short statement on Friday.
"A truck driver has attempted an attack with the use of an explosive device made of pyrotechnics on a group of servicemen involved in reinforcement of sections of the state border," the statement read.
The suspect tried to flee the scene, but the troops managed to block his vehicle and detain him, the ministry said. None of the servicemen were injured in the incident, it added.
The attacker, who was described as a 51-year-old male, was handed over to police. "Traits of extremism are being identified in the actions of the driver," the statement read.
Belarus, a close ally of Russia, shares a 1,084-km border with Ukraine. Minsk is not directly taking part in the fighting between Moscow and Kiev – however, Russia and Belarus created a joint military grouping within Belarus last autumn to address perceived threats from the West.
Ukraine has reportedly been reinforcing its border with Belarus due to concerns over a potential Russian military incursion. Minsk has accused Kiev of conducting provocations and attempting to drag Belarus into the conflict.
In March, Belarusian President Alexander Lukashenko called his Ukrainian counterpart, Vladimir Zelensky, "scum" after a Russian A-50 surveillance aircraft sustained minor damage in a drone attack on an air base in Belarus. The operation could not have been carried out without the Ukrainian leader knowing, he said.
Last month, Kiev recalled its ambassador to Belarus for consultations, after Lukashenko held a meeting with the acting head of Russia's People's Republics of Donetsk (DPR), Denis Pushilin. Along with the People's Republics of Lugansk (LPR), and Zaporozhye and Kherson Regions, the DPR became part of Russia last autumn after people in the four regions voted overwhelmingly in favor of the move in referendums. Ukraine considers the territories to be occupied by Russia.
You can share this story on social media: