Belarusian president says Zelensky is 'just scum'
Alexander Lukashenko used harsh words to describe his Ukrainian counterpart's actions amid the conflict with Russia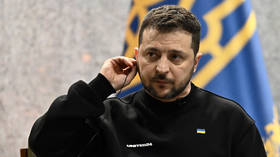 Belarusian President Alexander Lukashenko has lashed out at his Ukrainian counterpart Vladimir Zelensky, accusing him of attempting to drag Belarus into Kiev's conflict with Moscow.
On Tuesday, Lukashenko told the media that a Russian A-50 surveillance aircraft sustained minor damage in a drone attack on the Machulishchy air base in Belarus last week, adding that the assault had been carried out by a "terrorist" recruit of Ukraine's Security Service (SBU).
"There can be only one conclusion… President Zelensky is just scum. Just scum, as such operations are never carried out without the consent of the head of state and the commander-in-chief. I am telling you this as a president," the Belarusian leader said.
The exact word that Lukashenko used was "гнида" (gnida), which is Russian for louse egg or nit.
According to Lukashenko, Zelensky "has been making circles around Belarus" and talking about signing "a non-aggression pact" between Kiev and Minsk under the auspices of the UN, but "at the same time" doing things like this.
"I know that they want to drag us into the war on the order of the Americans," Lukashenko said.
In a comment addressing Zelensky's government, he stated: "If you think that by challenging us this way you'll be able to drag us into the war tomorrow… then you are mistaken."
The Belarusian leader first revealed that Ukraine had offered "a non-aggression pact" to his country in late January. Back then, Lukashenko said such an agreement would have been excessive, as Minsk had no aggressive plans against its neighbor.
Belarus is a close ally of Russia, with the two countries creating a joint military grouping on Belarusian territory in the fall. According to Minsk, this was needed to address perceived threats from the West, which he said is eager to involve Belarus in the Ukrainian conflict in order to extend the frontline and stretch the resources of the Russian forces.
You can share this story on social media: