Russia's key ally outlines what would force it to join fight against Ukraine
Minsk will only deploy its military forces if Kiev attacks Belarus, Alexander Lukashenko has announced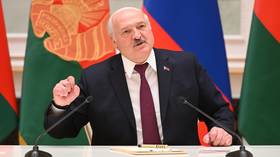 Belarusian President Alexander Lukashenko has said that an act of aggression by Kiev against his country is the sole reason Belarus would involve itself in the Ukraine conflict. He also claimed that the West wants to drag Minsk into the conflict.
Speaking to journalists on Thursday, Lukashenko said: "I am prepared to fight together with the Russians from Belarus' territory only in one case: If just a single soldier comes from there to Belarus' territory to kill my people."
He went on to warn that if Ukraine or any other neighboring country "commits aggression against Belarus, there will be the most severe response."
Lukashenko added that Belarus is a "peaceful" nation that "does not want war," noting that despite being close allies, Moscow has not asked Minsk to take part in the conflict.
The Belarusian President also claimed, citing intelligence reports, that the West wants to drag Belarus into the conflict in order to further stretch the frontline. He said, however, that Minsk will not be provoked into doing so.
On Monday, Imangali Tasmagambetov, the secretary general of the Collective Security Treaty Organization (CSTO), of which both Moscow and Minsk are part, announced that the bloc will hold joint military exercises in Belarus. The CSTO also includes Armenia, Kazakhstan, Kyrgyzstan, and Tajikistan.
Receiving Tasmagambetov in Minsk, Lukashenko called for greater cooperation among the member states, in light of what is "happening around" their borders.
"If somebody thinks that the conflict between Russia and Ukraine is not our conflict, that we can quietly sit it out – no, that won't happen," the Belarusian president said.
Minsk has allowed Moscow to use its territory during the military operation, but has declined to contribute its own forces. The two allies, however, set up a joint military force late last year to address threats that Belarus presumably faces on its Western border.
Ukrainian and Western officials have repeatedly claimed that Russia is trying to persuade Belarus to take part in the conflict in the neighboring country.
You can share this story on social media: