Wagner chief reveals losses in fight for key Donbass city
Ukrainian casualties during the battle for Artyomovsk were several times higher than Russian ones, Evgeny Prigozhin has claimed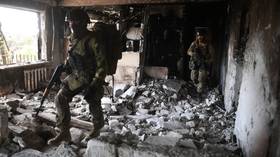 The head of Russia's Wagner Group, Evgeny Prigozhin, has revealed that his private military company lost around 20,000 servicemen during the fight for the strategic Donbass city of Artyomovsk, also known as Bakhmut. He further claimed that Kiev had suffered some 50,000 fatalities during what has been described as the biggest battle of the 21st century so far.
In an interview published by Wagner's press service on Tuesday, Prigozhin said he had boosted the company's ranks with 50,000 inmates from Russian prisons during the long-running battle. They were offered a chance to fight instead of completing their sentences. He added that there was even split between prisoners and volunteers among the dead, accounting for about 10,000 losses each.
Around 20% of Wagner's forces had also received injuries that would require at least three months to recover from, Prigozhin stated.
However, he insisted that the Ukrainian military had suffered far greater losses in what he previously called "the Bakhmut meat-grinder."

"We've destroyed 50,000 troops of the Ukrainian armed forces [in Artyomovsk]," the Wagner chief claimed, adding that another 50,000 to 70,000 had been seriously wounded.
Prigozhin announced on Saturday that the operation to take control of Artyomovsk, which had been spearheaded by Wagner, had ended and that the city had been "fully captured." The battle for the major logistics hub had been fought for 224 days, he added.
The Russian Defense Ministry confirmed later the same day that the city had been taken, with President Vladimir Putin congratulating Wagner servicemen and regular Russian military troops on their success.
Ukraine, which previously claimed that Artyomovsk would be defended at any cost and would become a turning point in the conflict with Moscow, has thus far refused to admit the loss of the city.
On Sunday, Ukrainian President Vladimir Zelensky said that the settlement "is only in our hearts" when asked by US counterpart Joe Biden at the G7 summit in Japan if Kiev still controlled Artyomovsk. A few hours later, Zelensky changed his stance and denied that the settlement was "occupied by Russia."
You can share this story on social media: