Russian region explains why it uses Artyomovsk instead of Bakhmut
The Donetsk People's Republic does not recognize re-namings made by post-Maidan Ukraine, Denis Pushilin has explained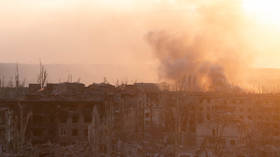 The acting head of Russia's Donetsk People's Republic (DPR), Denis Pushilin, has visited recently-liberated Artyomovsk (known in Ukraine as Bakhmut) to assess the damage inflicted by months-long fighting in the city, posting footage from the scene to his Telegram channel on Tuesday.
There's still a lot of work to do in the city, which is full of munitions and mines left behind by the Ukrainian troops, Pushilin admitted, as he erected the DPR flag.
The official also explained why it was called Artyomovsk in Russia, while Ukraine – and its Western backers – refer to it as Bakhmut. The city was renamed under former Ukrainian president Pyotr Poroshenko, who launched the so-called 'de-communization' movement, which was designed to eradicate Soviet-era names. The DPR does not recognize these re-namings, and has special legislation to address the matter, Pushilin explained.
"Bakhmut is a name from the Russian Empire. But under the Soviet Union it was called Artyomovsk, and that's how we remember it. Moreover, there is a corresponding decree, which states that all the names of cities and districts [within the formerly-Ukrainian Donetsk Region] shall be reverted to the state of May 11, 2014," Pushilin said, referring to the day when the republic was proclaimed.
Founded in the late 16th century under Russian Tsar Ivan IV (popularly known as 'The Terrible'), the city was originally a border outpost known as the 'Bakhmut Guard-fort'. Later on, Bakhmut grew into a larger fortress, ultimately becoming a full-fledged town in the mid-18th century. The town was renamed Artyomovsk in 1924 to commemorate Russian revolutionary Fedor Sergeev, best known under the alias 'Comrade Artem'.
The village of New York, another location renamed under Poroshenko, will be among the next settlements to get liberated, Pushilin stated, warning it "will be New York no more." The village's unlikely name, in fact, is the original one, since the location was founded by a German Mennonite community that had been invited into the Russian Empire by Catherine the Great. The village was called New York until 1951, when it was renamed Novgorodskoye.
You can share this story on social media: