Zelensky compares Artyomovsk to Hiroshima
The aftermath of the battle for the Donbass city is reminiscent of the US nuclear bombing in WWII, the Ukrainian president says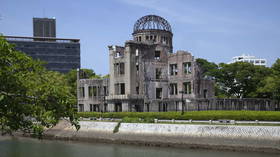 The devastation left by the months-long battle for the Donbass city of Artyomovsk is reminiscent of the aftermath of the US nuclear bombing of Hiroshima, Ukrainian President Vladimir Zelensky told journalists on Sunday at the G7 summit in the Japanese city.
"The photos of Hiroshima remind me of Bakhmut," Zelensky said, using the Ukrainian name of the city.
He laid wreaths at the memorial to the victims of the atomic bombing in Hiroshima during his visit. "Absolute total destruction. There is nothing, there are no people," he said, adding that "all the buildings are destroyed" in the city captured by Russia over the weekend.
The Russian Defense Ministry confirmed that it had captured Artyomovsk late Saturday.
On Sunday, Russian President Vladimir Putin congratulated the Wagner fighters and the servicemen of the regular Russian Army for successfully taking the city. Kiev continues to deny that it lost control of the city.
Zelensky himself sent mixed signals about the situation on the ground. Early Sunday, he said the city "is only in our hearts" when asked if Ukraine still controls Artyomovsk. Later, he denied that the city was "occupied by Russia." Russian businessman Evgeny Prigozhin, the founder of the Wagner Group private military company, told journalists on Sunday that "no Ukrainian fighters had been left" in Artyomovsk.
The US nuclear bombing of Hiroshima killed between 70,000 and 80,000 civilians, or around 30% of the city's population at that time, according to various estimates. Another 70,000 people were injured. The blast also killed an estimated 20,000 Japanese military personnel.
The 'Little Boy' bomb, which exploded around 580 meters above the city, destroyed everything within a 1.6-kilometer radius. It also caused a massive blaze that engulfed 11 square kilometers. According to Japanese officials, almost 70% of the city's buildings were destroyed.
The salt-mining city of Artyomovsk had been the scene of intense fighting for eight months as Russian forces gradually pushed Ukrainian troops out. The city, which spreads over 41.6 square kilometers, was largely destroyed in the process.
In 2017, the total population of Artyomovsk was just over 71,000 people. Most residents were evacuated before the battle began or earlier in the fighting. However, according to the International Committee of the Red Cross, around 10,000 people were still living in the city in late March. Kiev also stated that the battle for Artyomovsk claimed the lives of around 4,000 civilians. Russia has not commented on these estimates.
You can share this story on social media: