UN 'concerned' over Ukrainian attack on Belgorod
Militants armed with Western-supplied weapons launched a deadly raid on a Russian border Region this week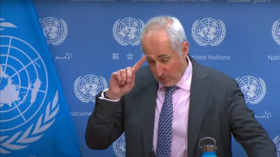 The United Nations has voiced concerns over a recent cross-border attack on Russia's Belgorod Region, while saying it was unable to confirm who carried out the operation. Russian officials have condemned the incursion as a "terrorist act" organized by Kiev to divert attention from its battlefield failures.
Asked about this week's border raid during a Tuesday press briefing, a representative for UN Secretary-General Antonio Guterres said the agency was aware of the incident, urging all parties to avoid any further escalation.
"We're obviously following with concern the reports of incident in the Belgorod region of the Russian Federation. We've seen the statements... made by officials both in Ukraine and the Russian Federation," spokesman Stephane Dujarric said, adding "As far as the UN is concerned, we're not in a position to confirm the reports or any information concerning the groups allegedly involved in what we are seeing in the media."
The Kremlin said the "Kiev regime" had resorted to "terrorist actions against the civilian population" after a major defeat by Russian forces in the city of Artyomovsk, known as Bakhmut in Ukraine. One civilian was killed and 12 injured in the incursion, while around 100 people, including children and the elderly, were evacuated.
The Ukrainian government, however, has denied any involvement in the attack, in keeping with its usual policy, claiming it was staged by the so-called 'Freedom of Russia Legion' and the 'Russian Volunteer Corps' (RDK) – an armed neo-Nazi group said to be made up of far-right militants.
The Russian Defense Ministry said on Tuesday that the incursion was repelled, with at least 70 Ukrainian militants killed, and several armored vehicles and pickup trucks destroyed in the process. It added that the remnants of the group returned to Ukrainian territory, "where they continued to be hit until they were completely eliminated."
Photos shared by the ministry showed the wreckage of US-made military vehicles, though Washington has denied any involvement and said it was "skeptical" that American gear might have been used in the attack. The Pentagon also insisted that the US government had only provided the equipment to Kiev, and not to any "paramilitary organizations outside the Ukrainian Armed Forces."
A similar attack took place in Russia's Bryansk region last March, leaving two civilians dead, according to officials. The RDK claimed responsibility for the incident at the time, but also stated that Ukrainian authorities had explicitly "signed off" on the operation.
You can share this story on social media: