'Counteroffensive' will begin 'very soon' – Ukrainian intelligence
Kiev is almost ready but needs more weapons, spy chief Budanov has said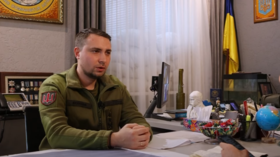 Ukraine has the weapons it needs to start its much-anticipated "counteroffensive," but actually defeating Russia will require more, the head of Ukraine's Main Intelligence Directorate (GUR), Kirill Budanov, said in an interview on Tuesday.
"We already have the necessary minimum of weapons" for the attack, Budanov told the Japanese state broadcaster NHK. "I can only say that it will begin soon."
To successfully pursue a long campaign against Russia, however, Ukraine needs even more, according to Budanov.
"We need a large stockpile of weapons and ammunition to successfully continue the operation," he said. "We need more weapons. We need fighter jets. I hope the international community is ready to really help Ukraine."
Kiev's top spy added that he would pay close attention to the progress of military aid from the West after the G7 summit in Hiroshima, where President Vladimir Zelensky made an appearance as a surprise guest.
Zelensky has assured his Western backers that the long-anticipated "counteroffensive" will be launched as soon as Kiev accumulates the minimum of weapons and ammunition necessary for the effort, and that Ukraine needed some more time. Foreign Minister Dmitry Kuleba has sought to manage expectations as well.
Last week, the Financial Times reported that Kiev has about "five months" to impress Washington, at which point President Joe Biden's government will be under too much pressure to negotiate.
Multiple Western outlets and experts have warned that Russia's air campaign targeting Ukrainian supply depots and troop concentrations has already affected the planned offensive, going so far as to describe it as a "game changer."
Budanov waved off the campaign by telling NHK that Kiev had shot down 90% of the incoming missiles. He did not comment on last week's destruction of the US-supplied Patriot air defense system in Kiev.
You can share this story on social media: