Ukrainian F-16 training program underway – Borrell
German Chancellor Olaf Scholz has voiced skepticism about Kiev receiving the jets anytime soon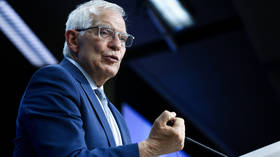 Western countries have already started to train Ukrainian pilots in Europe to fly US-designed F-16 fighter jets, EU foreign policy chief Josep Borrell confirmed on Tuesday.
Speaking prior to the EU Foreign Affairs Council meeting, the diplomat said that he was "happy that finally the training of pilots of F-16 has started in several countries," mentioning Poland in particular. However, he would not say how many Ukrainians are being taught to fly the aircraft, or which other countries are currently laying the groundwork for such efforts.
He went on to concede that the training "will take time," adding that this step would open the door for the jets to eventually be provided to Ukraine.
Borrell also compared the deliberations about sending Western-made modern jets to Kiev with the push to provide Ukraine with Leopard main battle tanks, saying that "in the beginning everybody is reluctant," but then "the decision comes to provide this military support because it is absolutely needed for Ukraine to continue defending."
However, on Sunday, German Chancellor Olaf Scholz dampened expectations about Kiev receiving the jets in the near future, noting that the pilot training program "is a long-term project," and the US still has not decided what to do after it is completed.
On Friday, the administration of US President Joe Biden voiced support for a joint program to train Ukrainian pilots on modern jets such as F-16s, with a senior White House official saying that "we will work with our allies to determine when planes will be delivered, who will be delivering them, and how many."
UK Prime Minister Rishi Sunak welcomed Washington's stance on the matter, announcing that Britain will work together with the US, the Netherlands, Belgium, and Denmark to "get Ukraine the combat air capability it needs."
Ukraine has been demanding modern fighter jets for months, with commanders claiming that with F-16s in their arsenal they "will win this war." However, on Monday, US Air Force chief Frank Kendall said that the fighters won't be a "game-changer" for Ukraine because airpower is not playing a decisive role in the ongoing conflict.
Meanwhile, commenting on potential F-16 deliveries to Ukraine, Russian Deputy Foreign Minister Aleksandr Grushko said that Western countries "are sticking to the escalation scenario," and that such actions are "fraught with colossal risks for themselves."
You can share this story on social media: