Moscow warns of fallout from F-16 deliveries to Kiev
Western countries "are sticking to the escalation scenario," which comes with enormous risks, the deputy FM has said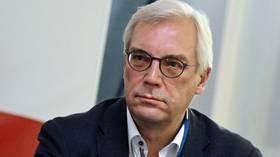 If Western countries decide to send F-16 fighter jets to Ukraine, it could backfire on them, Russian Deputy Foreign Minister Aleksandr Grushko warned on Saturday.
Speaking to TASS news agency, Grushko noted the West's continual "movement up the escalation ladder," following reports by several US media outlets that Washington would not stop its allies from sending modern fighter jets to Kiev, which remains locked in conflict with Moscow.
"We see that Western countries are sticking to the escalation scenario. It is fraught with colossal risks for themselves," he said.
Grushko noted that despite the assistance of Western countries, Russia "has all the necessary means to achieve its goals" with regard to the military operation in Ukraine.
On Friday, NBC reported that the US and its allies plan to provide Ukraine with F-16s, though this does not mean that the aircraft would be supplied directly by Washington. Several other outlets also claimed that the administration of US President Joe Biden would not block its allies from transferring the jets to Kiev.
A day later, US National Security Advisor Jake Sullivan stated that Washington would support a joint program to train Ukrainian pilots on modern jets such as F-16s, adding that "we will work with our allies to determine when planes will be delivered, who will be delivering them, and how many."
He also said that the jets would only be used for defensive purposes and would not venture into Russian territory. "The Ukrainians have consistently indicated that they are prepared to follow through on that," he claimed.
Russian Foreign Ministry spokeswoman Maria Zakharova slammed his remarks, describing them as "an imitation of law-based behavior." She added that Washington lacks any legal or moral grounds to make these assertions, which are "false and misleading from the very beginning."
Zakharova said the US is doing this "under the guise of some kind of pseudo-humanitarian principle" in order to achieve its own goals.
"Everyone understands perfectly well that the United States is waging a hybrid war against the entire region… We are talking not only about a stand-off with our country, but also about using the Ukrainian people's territory to achieve their objectives," she added.
You can share this story on social media: