Hungary ready to host Russia-Ukraine talks – FM
Discussions between Moscow and Kiev are the only way to peace, Peter Szijjarto has insisted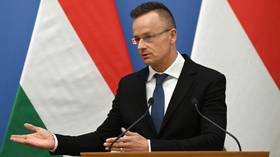 Budapest is prepared to facilitate peace negotiations between Russia and Ukraine, Hungarian Foreign Minister Peter Szijjarto has announced.
"At the very beginning of this conflict, I suggested to both sides... that Hungary is ready to provide a venue for peace talks at any time. This offer still stands," Szijjarto told RIA Novosti on Friday, on the sidelines of the EU-Central Asia Economic Forum in Almaty, Kazakhstan.
"Whenever Russia and Ukraine express their readiness [to negotiate], we're prepared to create all the necessary conditions for this," he added.
The foreign minister stated that, as a neighbor of Ukraine, Hungary is also "paying a high price" for the conflict. Ukraine has a large Hungarian population and its members are "being sent to the front, where many of them, regrettably, die," he claimed.
"We call for peace because peace is the only way to preserve lives," Szijjarto insisted.
However, the diplomat asserted that the "current European and Transatlantic context isn't favorable to peace."
He also reiterated support for China's 12-point roadmap to settle the conflict, which includes calls for the beginning of talks without preconditions.
"We support it for two reasons: firstly, because it exists, and secondly, because it's about peace. It can be a good basis for negotiations," the Hungarian minister said, adding that the initial plan should not be viewed as a final agreement.
"The thing is that some kind of discussions must begin [between Moscow and Kiev] eventually, because this is the path that leads to peace," Szijjarto said.
Hungary has adopted a neutral stance since the start of the conflict in February 2022. It has condemned Russia's military operation, but unlike many fellow EU members it has refrained from supplying weapons to Ukraine, and has consistently criticized the bloc's sanctions against Moscow.
Earlier this week, Russian Foreign Minister Sergey Lavrov said Moscow remains open to peace proposals "based on a genuine wish to contribute to the stabilization of the world order," including those recently made by Brazil and African nations.
Ukrainian President Vladimir Zelensky has promoted his own ten-point peace plan. Among other things, it calls for Russia to withdraw from all territories within Ukraine's 1991 borders, to pay reparations, and to submit to war-crime tribunals. Moscow has rejected the plan as "unacceptable" and ignoring the reality on the ground.
You can share this story on social media: