Zelensky asks G7 for peace summit without Russia – FT
World leaders will discuss the Ukrainian president's proposal during the upcoming meeting in Japan, an EU official told the outlet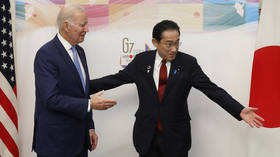 President Vladimir Zelensky has asked the G7 to consider holding a summit on the peaceful settlement of the conflict in Ukraine without the participation of Russia, an EU official has told the Financial Times.
The leaders of Canada, France, Germany, Italy, Japan, the UK, the US and the EU will discuss the possibility of staging such an event this summer during a three-day Group of Seven meeting, which kicks off in Hiroshima on Friday, the outlet reported on Thursday.
According to the official, the discussions at the high-profile meeting in Japan will focus on the ten-point peace plan that Zelensky has been promoting in recent months. Among other things, this proposal calls for Russia to withdraw its forces from all territories within Ukraine's 1991 borders, to pay reparations, and to submit to war-crime tribunals.
Moscow has rejected the plan as "unacceptable," pointing out that it ignores the reality on the ground and is actually a sign of Kiev's unwillingness to resolve the crisis through talks.
Zelensky's spokesperson has confirmed to the FT that Kiev asked the G7 to consider the ten-point plan as Kiev is trying to get as many nations as possible to support the proposal.
The Ukrainian leader himself is expected to address the summit in Hiroshima via video link.
Ukraine is also interested in "China being involved in the implementation of the Ukrainian peace formula," said Andrey Yermak, Zelensky's chief of staff, as quoted by the paper.
On Thursday, Zelensky and other Ukrainian officials, including Yermak, held a meeting in Kiev with China's newly appointed special envoy for Eurasian affairs, Li Hui.
According to the Chinese Foreign Ministry, Li told the Ukrainians that Beijing is eager to serve as a peace broker to help reach a political resolution between Kiev and Moscow, based on the principles outlined in a 12-point roadmap published by China in late February.
Beijing's plan, which calls for early talks between Russia and Ukraine without preconditions, got a positive reception in Moscow, which said it's ready to discuss it further. However, the West reacted negatively, with NATO Secretary General Jens Stoltenberg claiming that Beijing lacked "credibility" as a mediator, having refused to condemn Moscow's military operation. EU foreign policy chief Josep Borrell described the Chinese roadmap as merely "a set of wishful considerations."
On Wednesday, Russian Foreign Minister Sergey Lavrov said Moscow remains prepared to listen to peace proposals "based on a genuine wish to contribute to the stabilization of the world order," including those recently made by Brazil and the African nations.
You can share this story on social media: