Africa to send six presidents to Moscow and Kiev
The leaders will go to Russia and Ukraine hoping to create conditions for peace negotiations, South Africa's Foreign Ministry said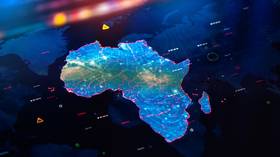 South Africa's foreign ministry has announced that six African presidents are soon expected to jointly travel to Moscow and Kiev in hopes of facilitating negotiations between the two countries. Details of the endeavor are still being finalized but their mission could take place in early June, Bloomberg reported.
"The six heads of state will be shuttling between the two capitals to engage in the facilitating of peace talks, to at least get toward a cease-fire," said Department of International Relations and Cooperation Director-General Zane Dangor.
In a virtual meeting with lawmakers on Wednesday, Dangor stated that the initiative has already been shared with the UN secretary-general, who is supporting it. "We have also engaged with other actors, including the US. There is general support for this initiative that President Ramaphosa announced," he said.
Dangor also noted that Naledi Pandor, South Africa's foreign minister, will meet her Ukrainian counterpart in Portugal in the coming days to discuss the African initiative.
The official's statement comes after South African President Cyril Ramaphosa announced on Tuesday that the leaders of Egypt, Uganda, Zambia, Senegal and the Republic of the Congo had expressed their willingness to take part in the peace initiative and that Russian President Vladimir Putin and Ukrainian leader Vladimir Zelensky had agreed to host the mission.
South Africa –a member of the BRICS group along with Brazil, Russia, India and China– is among the countries that have refused to take part in the US-led campaign to sanction Moscow over the ongoing situation in Ukraine. Ramaphosa has repeatedly stressed that his country has a tradition of non-alignment and insisted that South Africa "has not been, and will not be, drawn into a contest between global powers."
Meanwhile, Russian Foreign Minister Sergey Lavrov has stated that Moscow is prepared to consider proposals put forth by African and Latin American nations. He noted, however, that Western nations don't appear to be as open-minded and only seem to acknowledge President Zelensky's ten-step 'peace plan,' which involves the "capitulation of Russia," a tribunal against the Russian leadership, and reparations for Ukraine.
"The West claims that this is the only plan that is currently on the table and which it supports," Lavrov surmised, noting that Zelensky has repeatedly declined to hold any talks with Moscow and has officially outlawed negotiations with Russia so long as Putin remains president.
You can share this story on social media: