Putin, Zelensky open to African peace mission – South Africa
An initiative involving heads of state from Egypt, Uganda and Senegal has been proposed to Moscow and Kiev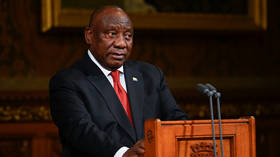 Russia and Ukraine have agreed to host a peace mission from African leaders who are seeking to resolve the conflict between the two nations, South African President Cyril Ramaphosa has said.
During a press briefing on Tuesday, Ramaphosa revealed he had talked to Russian President Vladimir Putin and Ukrainian leader Vladimir Zelensky about the proposal.
"My discussions with the two leaders demonstrated that they are both ready to receive the African leaders and to have a discussion on how this conflict can be brought to an end," Ramaphosa said, as cited by Reuters.
"Whether that will succeed or not is going to depend on the discussions that will be held," he added.
South Africa, which is part of the BRICS group of nations along with Brazil, Russia, India, and China, is among the countries that have refused to join the US-led campaign to sanction Moscow in response to the hostilities in Ukraine.
Earlier this week, Ramaphosa noted that South Africa had a tradition of non-alignment stemming from the Cold War.
"Throughout, we have been firm on this point: South Africa has not been, and will not be, drawn into a contest between global powers," the president said.
In his announcement on Tuesday, Ramaphosa said the leaders of Senegal, Uganda, and Egypt had agreed to participate in the initiative. The UN secretary general, the US, and the UK had all been briefed on the idea, the South African leader added.
Several nations, including China, Brazil, and Türkiye, have offered assistance as mediators between Moscow and Kiev. However, Ukraine and its Western backers have insisted that Zelensky's peace plan is the only viable path to resolve the conflict.
The Ukrainian proposal, which has been firmly rejected by Moscow, boils down to Russia conceding defeat, withdrawing from territories Kiev claims as its own, and paying reparations. Ukraine also envisages assistance from the international community for reconstruction and security.
The Russian government perceives the conflict in Ukraine as part of a wider proxy war waged against it by the US and its allies, as they seek to protect their hegemony from an emerging multipolar world. Moscow has accused Washington and London of derailing Ankara-mediated peace talks with Kiev, which took place in the first months of the conflict and appeared to be on the verge of agreeing a truce.
You can share this story on social media: