Ukraine is 'attacking our sovereignty' – Hungary
Kiev's alleged plans to blow up Russia's Druzhba oil pipeline are a direct threat to Budapest, Peter Szijjarto has said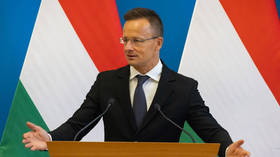 Ukrainian President Vladimir Zelensky's alleged plans to blow up a Russian pipeline that supplies Hungary with oil represent a major threat to the country's energy security, Foreign Minister Peter Szijjarto told journalists on Wednesday. He was commenting on a recent report by the Washington Post detailing Zelensky's alleged plan, citing leaked Pentagon documents.
Speaking during a visit to Austria, Szijjarto declared the idea nothing but "a threat against Hungary's sovereignty. Security of energy supply is a matter of sovereignty. If someone calls for Hungary's energy supply to be made impossible, [they] are virtually attacking Hungary's sovereignty."
The Ukrainian president reportedly proposed in February that Kiev should "blow up" the Russian Druzhba oil pipeline, that traverses the country, in order to "destroy" Hungary's energy industry, which is heavily dependent on Russian oil. Last week, the Washington Post reported that Zelensky had suggested hitting targets deep within Russian territory, as well as occupying some Russian border cities to gain leverage in talks with Moscow.
Szijjarto also accused Kiev of being "increasingly hostile" towards Budapest, adding that his country would not support any more EU aid to Ukraine until relations became friendlier. The foreign minister also raised a longstanding issue – the rights of ethnic Hungarians inside Ukraine – as Budapest has insisted for years that the rights of Hungarian minorities are being violated.
Most recently, Budapest criticized the way education rights have been limited for ethnic Hungarians, adding that this issue could hamper Kiev's prospects of ever joining the EU.
"It is obvious that the Ukrainians will only be able to move forward in the European Union accession negotiations if they guarantee that the Hungarian people will get back the rights they already had," he said.
Budapest has taken a neutral stance in the ongoing conflict between Moscow and Kiev, as it refused to provide military aid to Ukraine or allow Western aid to pass through its territory. Although Hungary had largely taken part in the existing EU sanctions against Russia, it has repeatedly criticized the restrictions and opposed those that might affect its own economy.
On Wednesday, Szijjarto once again asked the EU to reconsider the efficacy of anti-Russian sanctions. "These … proposals do not bring us one centimeter closer to peace," he said, referring to the 11th sanctions package currently being discussed by the bloc.
You can share this story on social media: