Seven UK-supplied Storm Shadow missiles shot down – Moscow
Other Western-made munitions and 22 drones have also been intercepted, Russia's Defense Ministry claims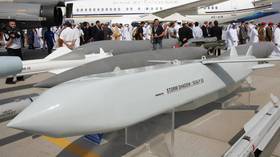 Several Storm Shadow cruise missiles, which were recently supplied to Ukraine by Britain, have been shot down by Russian air defenses over the past 24 hours, its Defense Ministry has said.
"Seven Storm Shadow long-range cruise missiles, three HARM anti-radar missiles and seven HIMARS multiple rocket launcher shells were intercepted," the ministry's spokesman, Lieutenant General Igor Konashenkov, announced during a briefing on Tuesday. He didn't say where the intercepts had taken place.
According to Konashenkov, 22 Ukrainian drones were also destroyed over Russia's newly incorporated territories: the People's Republics of Donetsk and Lugansk, and Zaporozhye and Kherson Regions.
The spokesman said Russia's overnight missile barrage on Ukrainian military formations, hardware, and depots of ammunition and equipment that had been provided by the West had "achieved its goal. All intended targets were hit."
Among those targets was a US-supplied Patriot missile system, which was destroyed in the capital Kiev by a Kinzhal hypersonic missile, Konashenkov said.
Russia first announced the downing of a Storm Shadow on Monday, saying that one such missile had been intercepted.
The authorities in Lugansk previously claimed that, over the past few days, the British munitions had been used in several Ukrainian attacks on the city, in which residential buildings were damaged.
Britain confirmed the delivery of Storm Shadow air-launched cruise missiles to Ukraine last week. CNN earlier reported that Kiev had received the munitions well before the official announcement. With a range of up to 300km (200 miles), Storm Shadow became the longest-range weapon supplied to Kiev by its Western backers to date. UK Defense Secretary Ben Wallace claimed that the missiles would allow "Ukraine to push back Russian forces based within Ukrainian sovereign territory."
Moscow said the decision to provide Storm Shadow missiles to Ukraine was "a very unfriendly step" on the part of Britain, which revealed the country's "unprecedented level of involvement" in the conflict. The move would lead to "serious escalation" in Ukraine, the Foreign Ministry warned, adding that Russia "reserves the right to take any measures deemed necessary to neutralize a threat" posed by the new weapons.
During more than a year of fighting, Russian officials have often pointed out that deliveries of more sophisticated arms to Ukraine by the US, UK and their allies could cross its 'red lines'. According to Moscow, the supply of weapons and ammo, as well as intelligence sharing and training provided to Kiev's forces, have already made Western nations de facto parties to the conflict.
You can share this story on social media: