Russia contemplates severing ties with Poland
An extreme outcome is now a real prospect amid an unfolding row over diplomatic property in Warsaw, Moscow's envoy has acknowledged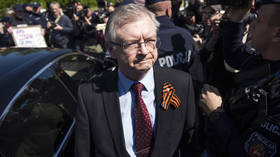 Diplomatic relations between Russia and Poland that are already fraught, may deteriorate further or even be completely severed, Moscow's top diplomat to Warsaw has warned. Ambassador Sergey Andreev's comments came after the Polish prime minister suggested this week that kicking the envoy out of the country would be "easy" to do.
Andreev said there "was always a possibility" that ties could be severed, when asked about such a scenario by the Izvestia newspaper. "Whether it becomes reality depends on the decisions of our leadership and the Polish authorities," he said in an interview published on Tuesday.
Last month, bilateral tensions between the neighboring states escalated further after authorities in Warsaw seized a school that has been operated by the Russian embassy there for decades.
Polish Prime Minister Mateusz Morawiecki discussed a possible reduction of diplomatic representation in an interview on Monday.
"It is very easy to have an ambassador recalled. And then the Russians will have our ambassador recalled," he told Polsat television. "In such a situation, the flow of information in both directions would be even more restrained."
Morawiecki argued that the time for such drastic measures has not arrived, citing the policies of fellow EU and NATO states that host Russian ambassadors. He also praised the seizure of the school, describing it as a result "of effective actions" by the Polish side.
The Russian ambassador has attributed the current poor state of relations to an irrational hatred of Russia in Poland.
Assessing this phenomenon, Andreev said "the Polish political elites know no boundaries in their Russophobia, and the government competes with the opposition in inventing new ways to stick it to Russia."
Citing the Russian equivalent of the anglophone saying 'Don't cut off your nose to spite your face,' Andreev said: "They don't care that the measures they initiate often hurt the interest of Polish businesses and citizens more than they do ours. They cling to the proverbial 'I'll freeze my ears off to spite my granny' principle."
Andreev noted that the Polish Ministry of Foreign Affairs has distanced itself from the row over diplomatic buildings and is pointing the finger at local authorities, which are seeking to expropriate them. Moscow says it's a clear violation of the 1964 Vienna Convention on Diplomatic Relations.
That neither the government nor the courts of law in Poland see any wrongdoing "clearly shows the level of legal culture and basic decency" that obtains there, the Russian envoy highlighted. He suggested that at some point Moscow will respond in kind and target Polish diplomatic property.
You can share this story on social media: