Moscow doesn't rule out 'asymmetric' response to Poland
Russia's Foreign Ministry is considering alternatives to tit-for-tat measures after Polish prosecutors took over frozen funds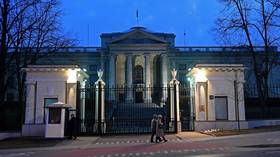 The Russian Foreign Ministry has not ruled out "asymmetric measures" in response to the forced removal of funds belonging to its Warsaw embassy, spokeswoman Maria Zakharova said on Friday. The row over the money started last year, with Moscow responding in a tit-for-tat fashion to Poland's attempts to acquire the funds.
In a comment posted on the ministry's website, the Russian diplomat addressed recent reports in the media about Polish authorities' removal of money from the Russian embassy and trade mission bank accounts.
Zakharova confirmed that in early March a Polish regional prosecutor's office had the assets transferred to its own accounts, describing the move as seizure of evidence. She pointed out, though, that it was "premature" to call it a "confiscation" and added that in practical terms nothing had changed.
"The Polish embassy in Moscow does not have access to its money in Russian banks either," she explained in the statement. Nevertheless, "we allow for the possibility of using asymmetric measures in response."
The situation with the Russian funds was highlighted this week by the Polish newspaper Rzeczpospolita.
The Russian money was initially frozen in February 2022 in what the Polish government claimed to be a probe into allegations of the use of funds "to finance terrorism," Zakharova said, describing the "excuse" for the move as "absurd." Russia's assessment was that Poland had breached the 1961 Vienna Convention on Diplomatic Relations.
"Multiple attempts to remind the Poles about international law and calls not to showcase their legal nihilism in such a blatant way were fruitless," the ministry's spokeswoman remarked, explaining why in March 2022 Moscow imposed similar restrictions on the Polish funds in Russia.
The stand-off escalated last month when Warsaw seized a school run by the Russian embassy, allegedly to prevent illegal removal of property from the premises. Ambassador Sergey Andreyev called the move a "break-in" and rejected Polish claims that the facility was not covered by diplomatic protection.
The embassy has been operating the school since the mid-1950s, but the current government in Warsaw declared that it has to be vacated by Russia and requested that a court annul its lease.
You can share this story on social media: