Poland 'had no right' to seize Russian school – ambassador to RT 
A police raid on an educational premises in Warsaw was illegal under international law, Sergey Andreyev has said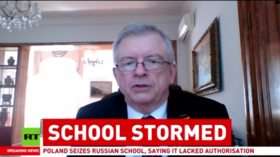 Poland "had no right" to seize a school operated by the Russian embassy in Warsaw and any dispute over the property should have been resolved through dialogue, Russian Ambassador to Warsaw Sergey Andreyev has told RT. He argued that, under the 1961 Vienna Convention on Diplomatic Relations, diplomatic buildings "under no circumstances can be subjected to break-ins and seizures."
Polish officials, accompanied by police, entered the school on Saturday after forcing open the front gate. The authorities insisted the building had no diplomatic protection because Russia had been using it "illegally for years," and that the officers were enforcing a court order.
The Russian ambassador said that Moscow had been in talks with Warsaw about the case until communication was interrupted by the Ukraine crisis. Like many other NATO members, Poland imposed sanctions on Russia and froze the embassy's bank accounts last year.
"We believe these issues can be resolved exclusively through intergovernmental bilateral agreements, and not through court rulings," Andreyev said, slamming the decision to refer the argument to the courts as "completely unlawful."
There is a special kind of cynicism [in Poland's actions] because we are talking about a school, about children. It's the end of the school year, and exams are coming soon.
Andreyev explained that Poland granted the building in question to the embassy in 1953, when Russia was part of the Soviet Union and Poland was ruled by a socialist government. Warsaw has only been demanding the building's return "for the last 10-15 years," he added.
The Russian Foreign Ministry released a statement, vowing to retaliate and warning Poland of "consequences." Andreyev said Moscow would respond to the school seizure in due time. "Naturally, we will do it without unnecessary haste and emotions, after a thorough analysis of the context of our relations," the diplomat said.
You can share this story on social media: