Moscow reacts to Polish seizure of Russian school
The police raid falls outside civilized rules of bilateral relations, the Foreign Ministry has said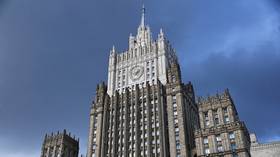 Poland will face consequences for seizing a school operated by the Russian embassy in Warsaw, the Russian Foreign Ministry announced on Saturday.
"We view these new hostile actions of the Polish authorities as a flagrant violation of the 1961 Vienna Convention on Diplomatic Relations and an attempt against Russian diplomatic real estate in Poland," the ministry said in a statement on its website.
"This outrageous move that falls outside of the boundaries of civilized communication between the states will not be left without a firm response and consequences for the Polish authorities and Poland's interests in Russia," the statement continued.
On Saturday, Polish officials, accompanied by police, entered the school's premises after opening the front gate with a crowbar. RIA Novosti reported that school staff were told to vacate the building by 6pm local time.
Polish Foreign Ministry spokesman Lukasz Jasina said the authorities were enforcing a court ruling regarding the building that has been "illegally leased by the Russian embassy for years." He argued that the school did not have diplomatic status and was not protected under the Vienna Convention.
Like other NATO members, Poland imposed sweeping sanctions on Russia in response to Moscow's military operation in Ukraine that was launched in February 2022. Last year, Polish authorities froze the Russian embassy's bank accounts. Moscow has slammed the sanctions as illegal under international law. This week, Russian envoy Sergey Andreyev said that prosecutors had seized outright the bank accounts of the embassy and Russia's trade mission.
You can share this story on social media: