Angry mob surrounds Russian ambassador in Warsaw (VIDEO)
The crowd demanded that the diplomat remove the Saint George's ribbon from his jacket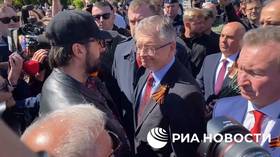 An angry crowd has prevented the Russian ambassador to Poland, Sergey Andreev, from laying a wreath at a military cemetery in Warsaw on Victory Day.
The mob surrounded the Russian delegation as it arrived at the site on Tuesday.
They demanded that Andreev and others remove their Saint George's ribbons, which are a symbol of World War II victory celebrations in Russia.
The ambassador refused to take off the ribbon, and had to leave the cemetery without laying a wreath.
A video published by Russia's RIA-Novosti news agency captured the moment the ambassador was surrounded by protesters, who chanted anti-Russian slogans. There was a large media presence at the cemetery, with local journalists apparently anticipating disruptions.
Andreev told Tass news agency that the Russian embassy contacted the police over the incident, and officers replied that the protesters had not broken any laws.
Wreath-laying is a traditional ceremony on May 9, the day when Russia celebrates victory over Nazi Germany in World War II.
Last year, Andreev was doused with red paint as he attempted to pay respects to Soviet soldiers who lost lives liberating Poland. This time, the diplomat escaped unharmed.
You can share this story on social media: