Moscow responds to Macron's 'vassal' claim
The idea that Russia is becoming dependent on China is a complete misconception, Dmitry Peskov has said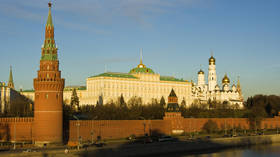 Moscow "categorically disagrees" with French President Emmanuel Macron's assessment that Russia is becoming a vassal to China, Kremlin Press Secretary Dmitry Peskov said on Monday.
His comment was in response to a Sunday interview in the newspaper L'Opinion, in which Macron opined that Russia had "de facto started a form of vassalization with regard to China," adding that Moscow had "already lost geopolitically" in the Ukraine conflict.
Speaking to reporters, Peskov pushed back on the claim, arguing that "our relations with China have the nature of a strategic, special partnership; it is not connected to any dependence."
He insisted that ties between Moscow and Beijing were based on "mutual interests, mutual benefit, and a shared worldview of international affairs," as well as "joint opposition to other actors' attempts to dictate and impose their views when it comes to the development of our countries."
The spokesman also said Moscow considered Macron's suggestion "absolutely incorrect," adding that it appeared to be "a testament, perhaps, to a complete misconception of what is really going on."
The French president's remarks come after a historic summit between Russian President Vladimir Putin and Chinese leader Xi Jinping in late March, which resulted in the signing of a dozen agreements in various fields. In February, Chinese officials characterized bilateral relations as "rock solid" while their Russian counterparts described them as at an "all-time high."
In the aftermath of the meeting, Putin also dismissed the idea that Russia was becoming too dependent on Beijing, describing those who hold this view as "enviers" and pointing out that the European economy is becoming reliant on China at a much faster pace than Russia.
You can share this story on social media: