Russia becoming China's vassal – Macron
The French president also argued that Moscow "has already lost geopolitically" in the Ukraine conflict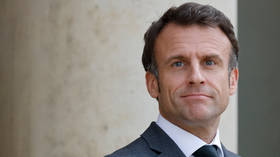 Russia has effectively suffered a strategic defeat in Ukraine and is becoming increasingly dependent on China, French President Emmanuel Macron said in an interview released on Sunday. However, he added that any European security architecture should address not only Ukraine's concerns but also prevent a standoff with Russia.
Speaking to the newspaper l'Opinion, when asked about the ongoing Ukraine conflict, Macron claimed that "Russia has already lost geopolitically." He argued that Moscow "has started to suspect its historical allies, its first-rank belt."
Moreover, according to the French leader, Moscow "de facto started a form of vassalization with regard to China and has lost access to the Baltic... since it precipitated the Swedish and Finnish push to join NATO." He added that such a turn of events would have been "unthinkable" even two years ago.
Macron reiterated that Moscow "must not win the military war" in Ukraine, adding that the European security architecture would have to provide full security to Ukraine. "However, it will have to envisage non-confrontation with Russia and rebuild sustainable balances. But there are still a lot of steps to get to that," he stressed.
Since the start of the Ukraine conflict, Macron has repeatedly called for peace talks while maintaining contacts with Russian President Vladimir Putin. The French president has also argued that the West should not seek a "total defeat of Russia" or "humiliate" it. Last December, he also stated that NATO should eventually prepare security guarantees for Russia after the Ukraine conflict is settled, a suggestion criticized by officials in Kiev.
Kremlin Press Secretary Dmitry Peskov said that Moscow "categorically disagrees" with Macron's assessment of Sino-Russian relations, describing them as a "strategic, special partnership" based on a shared view of global affairs.
The French leader's remarks came after a historic summit between Russian President Vladimir Putin and his Chinese counterpart Xi Jinping in late March, which resulted in the signing of dozens of documents on cooperation in economic, scientific, and military areas.
Following the landmark talks in Moscow, Putin dismissed the notion that his country is becoming dependent on Beijing while highly praising Russia's relations with China. He described those who think otherwise as "enviers," arguing that the European economy is becoming reliant on China at a much faster pace than Russia's.
"For decades, many wanted to turn China against the Soviet Union and Russia, and vice versa," he said at the time.
You can share this story on social media: