Russia won't shoot down Starlink satellites – ex-space chief
Moscow does not target space assets because it would inevitably trigger retaliation, Dmitry Rogozin has said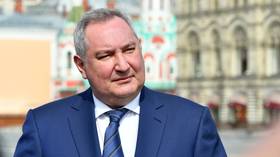 Russia has the tools needed to disable hostile satellites, but refrains from doing so to avoid escalation, Dmitry Rogozin, former head of Roscosmos space agency, said on Wednesday.
In an interview with the Moscow Speaking radio station, Rogozin was asked to comment on Russia's capability to destroy Western satellites, including Starlink systems operated by Elon Musk's SpaceX company.
"If we need to whack down, physically destroy, or simply neutralize the enemy orbital constellation… we will do that very quickly. We have all the necessary means for this," the ex-Roscosmos head, who now commands a volunteer fighting force called 'Tsar's Wolves', said.
However, Rogozin cautioned that any attack or other actions seeking to disable satellites would be seen as a casus belli. "This is a pretext for war, which will spill into space."
Russia would face retaliation, immediately losing all of its own satellites, he said, adding that this would lead to an escalation and war.
He also said that Moscow really needs a satellite system like Starlink, which has thousands of relays enabling users to control drones in real time and evade electronic warfare measures.
Since the start of the Ukraine conflict, SpaceX has provided Kiev with thousands of Starlink terminals to help the local population to stay connected to the internet.
In February however, as Kiev started to increasingly rely on the satellites to fight Russia, SpaceX limited the Ukrainian military's ability to control drones, with a senior company official explaining that this technology "was never intended to be weaponized."
Musk himself has said that he did not intend for his satellites to be the reason for the Ukraine conflict spiraling into WWIII.
In early April, the Russian Foreign Ministry also accused Kiev and "a number of foreign states" of attempting to tamper with Russian civilian satellites, warning that this is in violation of international law and could trigger "an appropriate response."
You can share this story on social media: