Young Americans don't understand history of WWII – Kremlin
If it doesn't remember the past, the US will soon be unable to assess the present and future, Dmitry Peskov says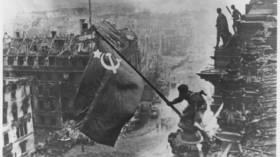 Younger generations of Americans no longer remember who fought against whom in World War II, and even middle-aged citizens are ignorant of the recent past, Kremlin spokesman Dmitry Peskov has claimed.
Speaking to journalists on Wednesday, President Vladimir Putin's press secretary said the lack of understanding of history among Americans was not merely "forgetfulness" but a "pernicious line" and warned of the consequences of such ignorance.
"Not knowing the horrors of the past, not knowing who saved the world from the brown plague (fascism), means that soon in America there will be a generation that will be unable to soberly assess its present and its future," Peskov said.
He noted that Russia, on the other hand, continues to do everything it can to keep the memory of the heroism of the Soviet people alive and make sure younger generations are aware of the true details of the war.
Peskov also noted the presence of the leaders of former Soviet republics at the May 9 Victory Day parade in Moscow, suggesting that this demonstrated the political and social will of those countries to protect this history.
"We will bring these truths to the people of the world, so that those who want to, can study the real facts [of WWII]" he said.
His comments came after White House Press Secretary Karine Jean-Pierre attempted on Tuesday to describe Russia as analogous to Adolf Hitler's Germany, and claimed that the "US and allied forces" were the ones who secured victory in WWII. Jean-Pierre also accused Vladimir Putin of having "promised only more violence" during his address at the May 9 parade in Moscow.
In his speech in Red Square, the Russian president denounced the "disgusting, criminal and deadly" ideology of Western supremacy and the globalists who "pit people against each other, split societies, provoke bloody conflicts and coups, sow hatred, Russophobia and aggressive nationalism, destroy traditional family values that make human a human."
Putin also claimed that the West had forgotten what "the insane ambitions of the Nazis led to" and who was responsible for defeating "this monstrous, total evil."
The Soviet Union did the lion's share of the fighting in Europe, at the cost of 8.7 million soldiers and up to 20 million civilian lives. Victory Day marks the day on which the remnants of the Nazi regime officially signed their unconditional surrender to the USSR and Allied forces at the end of World War II. Although the document was signed in Berlin on May 8, due to different time zones, Russia has historically celebrated the event on May 9.
You can share this story on social media: