Kremlin responds to Ukraine's threat to kill Russians anywhere
The statement by Kiev's intelligence chief is "truly heinous," Dmitry Peskov says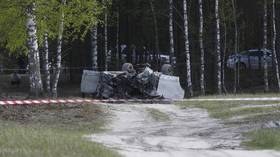 Threats by Ukraine's military intelligence chief Kirill Budanov have directly confirmed that Kiev is involved in plotting terrorist attacks, Kremlin spokesman Dmitry Peskov said on Monday.
Peskov was responding to a comment by Budanov, who told Yahoo News last week that "we've been killing Russians and we will keep killing Russians anywhere on the face of this world until the complete victory of Ukraine."
The intelligence chief made the remarks after being asked if the Ukrainian Defense Ministry's Main Directorate of Intelligence (GUR) had anything to do with last year's murder of Darya Dugina, a journalist and daughter of prominent Russian philosopher Aleksandr Dugin. What Russia calls "terrorism, we call liberation," he added.
"This is a truly heinous statement," Peskov said, referring to the Ukrainian intelligence chief's statement. "What Budanov said is a direct confirmation that the Kiev regime isn't only sponsoring terrorist activity, but is a direct organizer of this activity."
The spokesman noted that Russia has its own secret services that "will be doing everything that they should be doing against the background of such statements."
Moscow "vigorously condemns" Budanov's words, he stressed, adding that the Russian authorities will now be monitoring the reaction from Washington and European capitals to Kiev's pledge.

"It's very difficult to imagine that such terrorist statements from Kiev will remain without condemnation. Therefore, today we will be waiting for these condemnations," Peskov stated.
In April, Russian military blogger Vladlen Tatarsky was killed in St Petersburg after a statute that had been handed to him during an event with his followers exploded. A dozen people were also injured. Russia's Security Service (FSB) has blamed the blast on "Ukrainian special services and their agents, including fugitive members of the Russian opposition."
Last week, two drones were shot down above the Kremlin in what the Russian officials described as a failed Ukrainian attempt to assassinate President Vladimir Putin. Kiev has officially denied any involvement, but Ukraine's postal service has issued a stamp commemorating the attack.
On Saturday, Russian author and political activist Zakhar Prilepin was severely injured in a car bombing near the city of Nizhny Novgorod. His driver was killed. A suspect has admitted to Russian law enforcement that he was hired by an unspecified Ukrainian intelligence service.
Those incidents and the statement by Budanov "once again prove the rightfulness of President Putin's decision to launch the special military operation" in Ukraine more than a year ago, Peskov said.
You can share this story on social media: