Ukraine vows to continue killing Russians worldwide
Spy chief Kirill Budanov suggested that his military intelligence unit was responsible for the murder of Darya Dugina in Moscow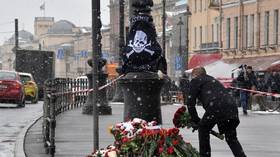 Ukrainian intelligence chief General Kirill Budanov has told Yahoo News that his organization, the GUR, will continue its campaign of terrorism against Russians "anywhere on the face of this world." The Kremlin has vowed that such attacks will "not be left unanswered."
Budanov – who heads the Main Directorate of Intelligence of the Ukrainian Ministry of Defense – was charged with terrorism offenses by a Moscow court last month, and Russian authorities have linked him with a string of sabotage and assassination operations, most recently a foiled plot to murder top Russian officials in Crimea.
In an interview with Yahoo News, held last month but published earlier this week, Budanov declared that what Russia calls "terrorism, we call liberation." Asked whether the GUR was responsible for the murder of Russian journalist and political activist Darya Dugina in Moscow last year, he gave a cryptic answer.
"Don't continue with that topic," he said. "All I will comment on is that we've been killing Russians and we will keep killing Russians anywhere on the face of this world until the complete victory of Ukraine."
Despite Budanov's boasting, Washington apparently has the GUR on a short leash. Recently leaked Pentagon documents suggested that when Budanov ordered his subordinates to "get ready for mass strikes" on Russian cities in February, American spies, who had been monitoring his communications, intervened to call off the operation.
Since Budanov spoke to Yahoo, two explosives-laden drones were downed over the Kremlin and a car bomb seriously injured Russian reporter and activist Zakhar Prilepin. A suspect in the bombing attack on Prilepin admitted to Russian law enforcement that he had been hired by an unspecified Ukrainian intelligence service, while Moscow has said that the US bears ultimate responsibility for both incidents.
"We know full well that decisions to carry out such terrorist actions are made not in Kiev, but in Washington," Kremlin spokesman Dmitry Peskov said of the attack on President Vladimir Putin's office. "Such crimes will not be left unanswered," the Russian Foreign Ministry said in a statement, adding that the "Kiev regime" will face "a stern and inevitable punishment."
You can share this story on social media: