US talked Ukraine out of attacks deep into Russia – WaPo
Moscow was reportedly on the list of targets Kiev was aiming to strike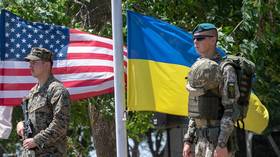 Ukraine was planning a series of strikes on targets deep inside Russia, including Moscow, to mark the anniversary of the start of the conflict earlier this year but was talked out of the idea after late intervention by the US, the Washington Post has claimed.
The outlet also cited unnamed Ukrainian officials as acknowledging that Washington has the final say in at least some of Kiev's military operations.
The Post alleged on Monday, citing leaked Pentagon documents, that the head of Ukraine's military intelligence directorate (HUR), Kirill Budanov, had instructed subordinates to "get ready for mass strikes on 24 February" on several Russian cities.
However, US officials were "secretly monitoring" Kiev's plans and were concerned that Russia could unleash a devastating response, potentially including the use of tactical nuclear weapons, the paper claimed.
According to the Post, the CIA issued a classified report on February 22 stating that the Ukrainian intelligence agency "had agreed, at Washington's request, to postpone strikes."
"Ukrainian officials have long privately said that the United States has de facto control over some military operations," the paper added. One example is said to be that Kiev's forces will not use advanced US-provided rocket systems without first confirming their targets with "US military personnel from a base in Europe."
The newspaper stated it was unclear which US officials exactly had intervened to stop the planned anniversary attacks, but noted that Washington had ordered its citizens to leave Russia in mid-February, indicating that the US was taking Ukraine's alleged plans seriously.
Earlier this month, the FBI arrested 21-year-old US Air National Guard Jack Teixeira, who is suspected of posting classified Pentagon materials on at least one closed group on the Discord social media platform.
While the Pentagon has neither confirmed nor denied the authenticity of the leaked documents, US National Security Council spokesman John Kirby has said that the materials had "no business" being "on the front pages of newspapers or on television."
On Sunday, an explosives-laden drone was found some 30km to the east of Moscow after apparently crashing. Several Russian media outlets claimed that the UAV was of Ukrainian design, and was carrying Canadian-made block demolition charges.
You can share this story on social media: