Drone attack on key Crimean port repelled – governor
Two naval UAVs targeted the city of Sevastopol, the headquarters of Russia's Black Sea Fleet, according to the top local official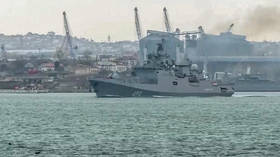 The city of Sevastopol, which hosts the headquarters of Russia's Black Sea Fleet, was targeted by naval drones overnight, local governor Mikhail Razvozhayev has announced.
The attack, which involved two UAVs, took place at around 3:30am local time, Razvozhayev wrote on Telegram on Monday.
One of the incoming drones was destroyed by the Russian forces, while the other self-exploded, he said.
According to the governor, the UAVs were neutralized in the outer harbor, with none of the facilities in Sevastopol suffering damage.
"It's calm in the city now, but all forces and services remain at full combat readiness," Razvozhayev wrote.
Sevastopol has been occasionally targeted by aerial and naval drones since the start of the conflict between Russia and Ukraine.
A month ago, three naval UAVs tried to approach the city, but were destroyed by the port's defenses.
The most prominent attacks on the city were attempted last year. In July, an aerial drone hit the Black Sea Fleet's headquarters, leaving six people wounded and prompting the cancellation of Navy Day celebrations in Sevastopol.
In October, seven unmanned watercraft and nine unmanned aircraft targeted Russian navy vessels in Sevastopol harbor, damaging a minesweeper ship. Russia's Defense Ministry said the Ukrainian operation was carried out with the assistance of "British experts."
Home to more than 500,000 people, Sevastopol is the largest city on the Crimean Peninsula. Due to its strategic importance, it has the status of a federal city, like Moscow and St Petersburg.
You can share this story on social media: