Crimean naval base attacked by drones – governor
A sea incursion targeting Sevastopol was repelled by the city's defense systems, Mikhail Razvozhaev has claimed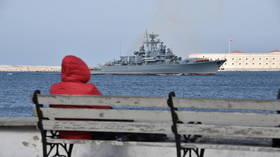 At least three naval drones were involved in an early morning attack on Russian warships stationed at the port of Sevastopol, local Governor Mikhail Razvozhaev has reported. The city hosts Russia's Black Sea Fleet and is occasionally targeted by Ukrainian forces.
The Russian Navy's assets were not damaged in Wednesday's raid, but the windows of several buildings near the coast were shattered by blast waves from the destroyed drones, the senior official wrote on social media. Russian air defenses were used to engage an aerial target during the incident, he added.
Despite sporadic attacks by Ukraine on the city of Sevastopol, located on the Crimean Peninsula, the use of naval drones, which can carry more explosives than their airborne equivalents, is a rare event.
The last major incident involving such weapons was reported by the Russian military in late October last year, when Kiev deployed seven unmanned watercraft and nine unmanned aircraft against ships in Sevastopol harbor. Ukrainian forces managed to damage a Natya-class minesweeper, the Defense Ministry said at the time.
The Russian military claimed the Ukrainian operation was conducted with the help of British advisers and targeted vessels that were providing safe passage for ships under a UN-mediated Black Sea grain deal. The Defense Ministry briefly suspended participation in the scheme as a result.
The grain deal, which allows Ukraine to export agricultural produce by sea, was extended for a second time last week. Moscow warned that the UN had 60 more days to deliver on the promise to have Western nations lift the restrictions hampering Russian grain and fertilizer trade, which it gave when the original agreement was signed.
You can share this story on social media: