Suspect in car bombing of Russian writer admits working for Ukraine
A man detained nearby shortly after the blast claims he had been recruited by Kiev long ago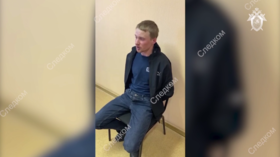 The chief suspect in the bombing of the car carrying Zakhar Prilepin has admitted to being linked to the Ukrainian intelligence services, Russia's Investigative Committee revealed on Saturday.
Prilepin, a prominent Russian writer and political activist, was targeted by a roadside bomb earlier in the day in the village of Pionersky, some 70km from the eponymous city, located some 400km to the east of Moscow. The blast killed Prilepin's associate, who was driving the car, and left the writer critically injured.
The suspect, identified as 29-year-old Ukrainian-born Alexander Permyakov, was apprehended shortly after the attack while trying to escape the scene on foot. Locals alerted the police to the fleeing man, who was eventually captured in a nearby village.
During questioning, Permyakov admitted having attempted to assassinate Prilepin, revealing he had been recruited by an unspecified Ukrainian intelligence service back in 2018. The Investigative Committee released a video of the questioning, with the suspect telling investigators he had planted two anti-tank mines on the side of the road and waited for Prilepin's car to pass before detonating the explosives remotely.
The blast obliterated the engine compartment of Prilepin's car, flipping the vehicle onto its roof. While the writer was critically wounded by the blast, his close associate, who was behind the wheel, was killed on the spot. The explosion left a large crater by the side of the road, and sent sizeable pieces of the car, including its gearbox, flying some 100 meters away, footage from the scene shows.
Prilepin was rushed to a hospital and underwent a successful operation after which he was sedated, the governor of Nizhny Novgorod Region, Gleb Nikitin, revealed without elaborating on the injuries. According to Russian media reports, citing eyewitnesses, the writer suffered fractures to both of his legs, and also reportedly received a spinal column injury.
Russia's Investigative Committee has opened a criminal probe into the incident, treating the blast as a terrorist attack.
You can share this story on social media: