West must be ready for unfavorable outcome in Ukraine – Czech president
Ukraine will suffer "terrible losses" no matter what happens with its planned counteroffensive, Petr Pavel has warned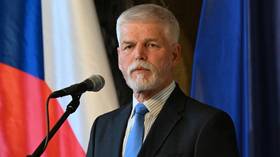 The conflict between Russia and Ukraine may not end in victory for Kiev, and its Western backers should prepare for such an outcome, Czech President Petr Pavel has told The Guardian newspaper.
"I think we should do anything… at our disposal to encourage Ukrainians and to support them to be successful. But internally, we should also be ready for other contingencies," said Pavel, who was in London for the coronation of King Charles III.
A lot will depend on the outcome of Ukraine's planned spring counteroffensive, explained the Czech leader, who has a background in intelligence and served as chairman of the NATO Military Committee between 2015 and 2018.
Kiev shouldn't "underestimate the Russians because they have enough manpower, they still have enough equipment," he added.

"And of course, being in defense makes it easier for them because Ukraine will have suffered terrible losses, even if they are well prepared. So attacking an enemy like Russia will be difficult and Russians will not be caught by surprise."
The Czech president, who visited Kiev with his Slovak counterpart Zuzana Caputova in late April, said Ukrainian President Vladimir Zelensky had been asking them for ammunition. Those in Kiev believe they still don't have everything they need to launch the counteroffensive, he added.
There "might be a temptation to push them, for some, to demonstrate some results," but the Ukrainians must be allowed to fully prepare for the assault on Russian lines, Pavel warned.
"It will be extremely harmful to Ukraine if this counteroffensive fails, because they will not have another chance, at least not this year," he stated.
In late April, Zelensky assured foreign journalists that the "counteroffensive will happen" and expressed hope that it would be successful. Ukrainian Defense Minister Aleksey Reznikov also said Kiev's troops were "generally ready for the push" and were only awaiting orders from senior officials.
However, a report by Politico a few weeks ago claimed that Ukraine's prime backer, the US, had concerns that the impact of the counteroffensive could fall short of expectations.
Russia, which has been building fortifications along the frontline for the past six months, has been saying that it's ready to repel the attack. Russian Deputy Foreign Minister Mikhail Galuzin warned last week that the counteroffensive would have "deplorable consequences" for Kiev.
You can share this story on social media: