Ukrainian counteroffensive will have 'deplorable consequences' – Moscow
Kiev and its supporters are derailing all initiatives for peace talks, Russian Deputy Foreign Minister Mikhail Galuzin says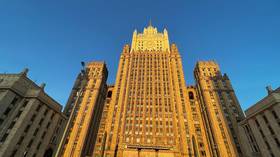 Ukraine is being pumped with weapons by Western nations for a long-planned counteroffensive against Russia, but it will have no benefits and will only lead to more bloodshed, Russian Deputy Foreign Minister Mikhail Galuzin has warned.
In an interview with the Izvestia newspaper published on Thursday, Galuzin claimed Kiev and its "Anglo-Saxon masters" are derailing all initiatives for peace talks, instead calling for the "strategic defeat of Russia."
"Thoughtlessly and irresponsibly pumping up Kiev with modern Western weapons and supporting its idea of a counteroffensive will only lead to bloodshed and further escalation of the conflict," he told the outlet.
"The Kiev regime and its Western sponsors should be warned about the inevitably deplorable consequences of their plans," Galuzin said, adding that Russian forces are prepared for any developments.
In recent months, officials in Kiev and the West have spoken on multiple occasions about plans for a massive counteroffensive against Russia. Last week, Ukrainian Defense Minister Aleksey Reznikov said that troops are "generally ready for the push" and are awaiting orders from senior officials.
On Wednesday, the head of the Wagner private military company, Evgeny Prigozhin, claimed Ukraine's forces had begun a counteroffensive in Artyomovsk, known as Bakhmut in Ukraine.
That same day, President Vladimir Putin's office reported that two drones had targeted his Kremlin quarters overnight. The Russian leader's spokesman, Dmitry Peskov, said that Putin was not there at the time.
While Kiev has officially denied responsibility for the attack, Russia said it reserves the right to retaliate "anywhere and anytime it deems necessary."
You can share this story on social media: