Kremlin attackers 'will be found' – Moscow
The terrorist threat from Ukraine must be dealt with, after an alleged attempt to kill President Putin, Russia's Foreign Ministry has said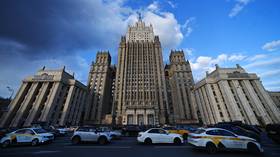 The Russian Foreign Ministry has expressed confidence that law enforcement can find and hold accountable those who launched the drone attack on the Kremlin on behalf of the Ukrainian government this week.
"Such crimes should not be left unanswered," the ministry said in a statement on Thursday. The perpetrators will face "a stern and inevitable punishment."

The ministry said it had no doubt that the "Kiev regime" was behind the incident, since it "has been deliberately supporting and using terrorist methods against civilian infrastructure and the peaceful population for a long time."
It cited the bombing of the Crimean Bridge last October as an example of such tactics employed by Kiev. The Ukrainian government denied masterminding the attempted sabotage of the bridge, which claimed three civilian lives. It likewise rejected Moscow's accusations regarding this week's drone incident.
The Foreign Ministry argued that the latest episode confirmed that Kiev is not interested in peace, thus proving the necessity of continued military action against Ukraine.
"No threats to our security should emanate from the territory of Ukraine and no acts of terrorism should be committed [by it]," the statement said.
The ministry reiterated that Russia reserves the right to retaliate as it sees fit, in accordance with "the threat that Kiev created for the leadership of our nation." Moscow described the drone attack as an attempt to kill President Vladimir Putin.
The drone incident happened on Tuesday night, when Putin was not at the Kremlin, according to his press secretary, Dmitry Peskov. When asked on Thursday how the Russian government had attributed the attack to Kiev, the spokesman cited intelligence reports. He also claimed that such an operation must have received a blessing from the US.
You can share this story on social media: