Fire erupts at another Russian oil facility – governor
This is the second such incident in Krasnodar Region in as many days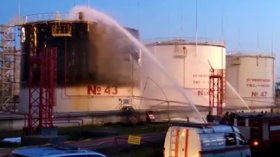 A fire broke out overnight at an oil storage facility in Krasnodar Region, Russia, following a suspected drone strike, TASS news agency reports, citing a source in the local emergency services.
"A second restless night for our emergency services," Governor Veniamin Kondratyev said on Thursday morning, confirming that dozens of firefighters are working to contain the blaze at the Ilsky oil refinery.
No injuries have been reported, and local residents are not in danger, Kondratyev added. The fire was fully contained and extinguished by 5:30am.
While the governor did not reveal the suspected cause of the incident, a source told TASS that a fuel storage tank caught fire early Thursday morning allegedly "due to an attack of an unknown drone."
Witnesses reported at least one explosion in the area shortly before the blaze started around 2:40am local time, according to the Baza Telegram channel.
The incident comes a day after another oil facility in Krasnodar Region caught fire, also due to an alleged drone strike. The authorities, however, have yet to officially confirm the cause of the incident in the village of Volna, 10km north of the port city of Taman and close to the eastern end of the Crimean Bridge.
In late April, Ukraine claimed it was behind the attack on an oil terminal in the Crimean port of Sevastopol, which destroyed four oil tanks, according to the local authorities. Kiev stated that the raid was meant to lay the groundwork for its long-planned spring counteroffensive.
Early Wednesday morning, two UAVs exploded over the Kremlin and the Russian Senate. The authorities said they were brought down by the air defenses. There were no injuries or reports of damage in the attack, which Russia blamed on Ukraine. The Kremlin stated that it reserves the right to retaliate in a manner, place, and time of its choosing.
You can share this story on social media: