Fire at Crimean Bridge oil depot – governor
The blaze came just days after Ukrainian forces used drones to strike a fuel terminal in Sevastopol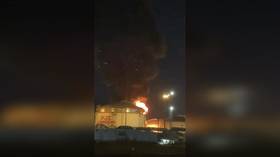 A fire broke out overnight at an oil storage facility in Russia's Krasnodar Region, the local governor Veniamin Kondratyev announced on Wednesday morning.
The fuel depot is located in the village of Volna, 10 km north of the port city of Taman and close to the east end of the strategic Crimean Bridge.
No injuries have been reported, and local residents are not in danger, the official stated, adding that firefighters were focusing their efforts on preventing the spread of the fire.
Last Saturday a Ukrainian drone strike set an oil terminal on fire in Sevastopol, in the Crimean Peninsula. The Ukrainian military the operation was meant to disrupt the logistics of the Russian Black Sea Fleet, which is based in the city, ahead of a promised Ukrainian counteroffensive.
Russia's TASS news agency cited a source in the Krasnodar emergency services as saying the facility in Volna was also hit by a drone.
Taman serves as a major ferry connection with Crimea and is the closest large settlement to the eastern part of the Crimean Bridge, which links the peninsula and the Krasnodar Region. Senior Ukrainian officials have pledged to destroy the strategically important structure.
Last year, a powerful bomb carried by a truck damaged the car portion of the bridge and killed three civilians, including the driver. Moscow accused Ukrainian military intelligence of masterminding what it called a terrorist attack.
You can share this story on social media: