Ukraine keeping West in the dark on counteroffensive plans – Politico
Kiev officials reportedly fear another leak of classified documents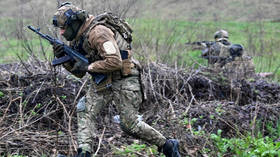 Ukraine is reluctant to share details of its expected spring counteroffensive against Russia with its Western backers due to fears that the information could be leaked, Politico reported on Tuesday.
According to European officials interviewed by the outlet, Kiev's concerns are underpinned by the recent leak of classified Pentagon documents, allegedly by Massachusetts National Guard soldier Jack Teixeira.
The trove of Pentagon files, the authenticity of which has not been officially confirmed but widely assumed, evaluated Russian and Ukrainian battle readiness, casualties, and weaknesses in the weapons used by Kiev.
The document trove put officials in Kiev "on high alert," the report claims. Politico sources have said that, while Ukraine is still likely sharing some intelligence with its Western allies, Kiev officials are doing their best to keep details about the upcoming battlefield push a secret.
One unnamed Ukrainian lawmaker backed up this claim, telling the outlet that "there are only a few people in the country that know the plan."
However, a US defense official told Politico there had been no indications that Kiev is withholding details from Washington, noting that the level of information sharing remained basically the same. He added that Ukraine had been "stingy with information from the very beginning" when it came to its battleplans.
Commenting on Kiev's apparent reluctance to share information, US National Security Council spokesperson John Kirby tried to downplay the report, saying silence ahead of the offensive would not be surprising, and Ukraine had no "obligation to notify us or tell us in advance."
In early April, days after the Pentagon leak made the headlines, CNN reported that the development had forced Ukraine to change some of its military plans. Publicly, Kiev officials attempted to dismiss it as "Photoshop and virtual fake leaks."
With rumors of Kiev's potential counteroffensive swirling around for several months now, Ukrainian Defense Minister Aleksey Reznikov said earlier this week that the nation's military is on the "home stretch" when it comes to preparations for the push. While Western officials have argued that Kiev has all it needs for a successful operation, behind closed doors the American military has reportedly expressed doubts about Ukraine's ability to break through Russian defensive lines.
You can share this story on social media: