Russia estimates Kiev's latest casualties
Over 15,000 Ukrainian troops were killed or injured in April, Defense Minister Shoigu has claimed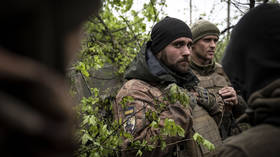 The Ukrainian armed forces have sustained over 15,000 battlefield casualties in April alone, Russian Defense Minister Sergey Shoigu has estimated. Kiev does not report its military personnel losses and disputes assessments that it perceives as too high.
According to Shoigu, Ukrainian troops suffered heavy losses "despite unprecedented military assistance by Western powers." The minister was reporting developments in the conflict on Tuesday, during a meeting of top military officials.
Neither Ukraine nor Russia offers regular updates on their own casualties. Washington's evaluation on the tally of casualties came to light last month, after a trove of classified Pentagon assessments was allegedly leaked online.
One of the leaked documents described by The Washington Post said between 124,000 and 131,000 Ukrainian soldiers had been killed or wounded since the start of hostilities in February 2022.
Ukrainian Defense Minister Aleksey Reznikov rejected this assessment, stating in an interview that the number of soldiers killed was smaller than the number of victims of the powerful quakes that hit Türkiye and Syria in February. He later apologized for the comparison, which some in the disaster-struck areas found distasteful. The combined tally of reported deaths from the quakes in the two countries surpassed 55,000.
The meeting attended by Shoigu was focused on military procurement and particularly on the supply of arms and munitions to Russian troops deployed against Ukraine. The minister said delivery levels were mostly sufficient but his department was closely monitoring producers for risks of failures in their contractual obligations. The Russian military was expecting a sharp surge in supply of precision weapons in the immediate future, the minister also announced.
You can share this story on social media: